Colemont Insurance Brokers promoted Matt Carpenter to assistant vice president in the company's Chicago office.
Carpenter joined Colemont in 2002, specializing in brokering casualty lines. His expertise has since expanded to include transportation, products liability, umbrella/excess, contracting-risks and program business. He began production for his own book of business in 2007.
Meadowbrook Insurance Group Inc., a Southfield, Michigan-based insurance holding company, promoted Sheri Foster to senior actuarial pricing analyst in its Overland Park, Kan., branch.
Foster has been with Meadowbrook for the past five years providing actuarial services. In her new role as senior actuarial pricing analyst, she has expanded her responsibilities at the company by coordinating the loss ratio forecast process, evaluating reinsurance contracts, and by forecasting profitability on new business prospects. Before joining Meadowbrook, Foster was with consulting firm Aspect Inc.
Thomas O'Connell has been named president of the newly opened Chicago office of Toledo, Ohio-based Hylant Group.
O'Connell has more than 30 years of industry experience. Supporting him in the new office is Regional Vice President Mark Miller, who previously led the Chicago office of Marsh & McLennan.
Buffalo, N.Y.-based Merchants Insurance Group promoted Raymond Bosche to assistant vice president and regional manager of its Central States Strategic Business Center in Columbus, Ohio.
Bosche has more than 26 years of experience in the insurance field. He served previously as Southern Ohio territory manager for Merchants. Prior to that, he held management positions with various insurance carriers.
Lester B. Knight has been elected non-executive chairman of the board of Aon Corp.
Knight succeeds Patrick G. Ryan, Aon's executive chairman and founder, who previously announced his intention to retire. Knight, an independent director since 1999, is a founding and managing partner of RoundTable Healthcare Partners, a health care-focused private equity investment firm. Prior to RoundTable, Knight was chairman and CEO of Allegiance Corp.
Erie Insurance Group named Terrence W. Cavanaugh president and chief executive officer, and an elected member of the firm's board of directors.
Cavanaugh joins Erie from Chubb Corp. where he most recently served as senior vice president and chief operating officer for its surety business. The Chicago native had a 33-year career with the Chubb Group of Insurance Cos, beginning his career as a bond underwriter for Chubb Surety in 1975. In 1999, he was appointed chief marketing officer for Chubb.
United America Indemnity Ltd. appointed Scott Reynolds president of United National Group, one of UAI's three U.S. divisions.
Reynolds has more than 20 years of industry experience and most recently served as president of the Specialty Underwriting Division of AmWINS Group Inc., where he oversaw AmWINS' program business.
Prior to his time at AmWINS, Reynolds was a manager at Royal & Sun Alliance responsible for all commercial lines pricing, filings and statistical reporting. He began his career in 1987 at Royal & Sun Alliance within its actuarial department and later served as division actuary of Liberty Mutual's Business Markets division.
West Chester, Pa.-based Venture Insurance Programs named Michael Rogers executive vice president and managing director of a new specialty property unit.
Rogers will establish a startup program for Venture that specializes in the production and management of a property and inland marine book of business. His primary focus will be coastal property. In addition, Rogers will serve as a property expert to other Venture programs.
He most recently served as new business manager and property manager for the NIF Group, where he was responsible for growth and development of property brokerage business for the New York City office.
Wholesale insurance brokerage Swett & Crawford in Atlanta appointed Rick Spivey as marketing manager for Risk Reducers, a workers' compensation unit acquired by Swett & Crawford in January.
Before joining Swett & Crawford, Spivey was a state sales manager with Alfa Vision Insurance of Little Rock, Arkansas. He was responsible for all company operations throughout the state, including prospecting, recruiting and appointing new agencies; training agencies on company procedures and in-depth planning, organization and territory management.
Spivey began his career in 1985 as the branch manager at Superior Federal Bank in Little Rock. He then moved to Farmers Insurance Group Inc. of Little Rock in 1990 in claims management.
Gary Buchanan has joined AmWINS Brokerage of New York as vice president.
Buchanan has more than 25 years of experience in the insurance industry. He will focus mainly on financial risk placements, including directors and officers, errors and omissions, employment practices, fiduciary, crime and product liability. He joins AmWINS from Wells Fargo Insurance Services, where he was vice president.
From This Issue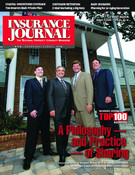 Agency Options: Networks, Financing, Staffing; Homeowners & Condos; Top Performing P/C Insurers: 2Q