Insurance Brokers and Agents of the West's (IBA West) education division, Insurance Skills Center (ISC), entered into an agreement with Cheryl L. Koch, president and CEO of Agency Management Resource Group, to manage ISC education and training programs.
In her role as managing director, Koch will be responsible for expanding the scope of education and training offerings, developing and delivering courses and programs, and working with ISC clients to create and implement the classes and training programs.
The strategic partnership with AMRG will provide ISC the expertise to expand its educational offerings with an emphasis on agency management training and agency management consulting services, including strategic planning, agency valuation and due diligence prior to merger or acquisition, sales training and management, agency operations consulting and procedures manuals, accounting support, errors and omissions loss control, technology use, and executive and sales coaching.
Koch has been involved with IBA West education for more than 20 years as a designer of curriculum and an instructor. With Dr. Emmett J. Vaughan, she co-created the Agribusiness and Farm Insurance Specialist (AFIS) designation and oversaw its early implementation. She designed and developed the E&O loss control program that is used by Big "I" state associations nationwide and is a frequent speaker on E&O issues.
Washington, D.C.-based Clements International, which specializes in providing insurance solutions for U.S. expatriates and international organizations, announced four promotions.
Dan Tuman, former vice president of commercial insurance, is now vice president of insurance sales to lead the retail and wholesale divisions. He has more than 20 years of insurance experience.
Lisa Kennedy-Mitchel, former director of operations, is now assistant vice president of operations. She has more than 10 years of management experience in the financial services industry, servicing corporate and individual clients. She will serve as the liaison for the Peace Corps, as well as manage CorpsCare account representatives.
Smita Malik, former commercial insurance account executive, is now director of commercial insurance sales specializing in customized insurance solutions for clients including fleet solutions, political risks, cargo, professional liability, directors and officers, general liability, excess, credit, energy, aviation and war risk. She has more than 14 years of experience.
Michael Crossett, former director of marketing, is now assistant vice president of marketing. He has more than 10 years of marketing and graphic design experience, and will help guide the creative direction for the company.
James J. Maguire, founder of Philadelphia Insurance Cos., retired as chairman of the board. He will continue to serve on PHLY's board of directors and will devote more time to his philanthropic endeavors through his charitable organization, The Maguire Foundation. Jamie Maguire, PHLY's president and CEO, succeeds him.
Zurich appointed Doug Bergen southwest regional property manager for its Global Corporate in North America (GCiNA) business unit. Bergen will be located in Zurich's Glendale, Calif., office. He will be responsible for managing the Southwest region's property underwriting staff and for continuing to profitably grow the book of business there. Bergen previously served as global property segment manager for Zurich's large international property business. In his 18 years at Zurich, Bergen has served in a number of roles in Global Corporate, having spent time managing both the Western and Southeast regions.
Crump Insurance Services Inc. of Irvine, Calif., named Marie Graves associate broker. She will assist with the marketing and placement of property and general liability risks. Previously she was a senior account executive for Partners Specialty Group.
From This Issue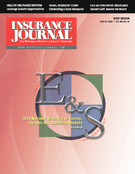 Excess, Surplus & Specialty Markets Directory, Vol. II