The California State Compensation Insurance Fund named Tom Rowe president, CEO and member of the Executive Committee. He will report directly to the board of directors and is responsible for the day-to-day operations of State Fund.
Former president/CEO Janet Frank resigned in late 2009 to care for her seriously ill mother, but then went to work for Zenith National Insurance Corp. in 2010. Doug Stewart had been serving as interim president/CEO.
Prior to joining the State Fund, Rowe was the principal of T. Rowe Strategies, a consulting practice focused exclusively on the property/casualty insurance industry. He has spent 29 years engaged in the industry, with experience in all aspects of the P/C marketplace.
Rowe worked for almost 25 years with Fireman's Fund Insurance Co. Prior to launching T. Rowe Strategies, he served in a key strategy role at Arthur J. Gallagher & Co., and as president of Trilogy Insurance Services, a unit of Trilogy Inc.
Rowe has been engaged with many members of the American Association of State Compensation Insurance Funds (AASCIF), helping them design and implement new products to improve account retention and new business acquisition.
Honolulu-based Island Insurance Co. Ltd. appointed Lyle Y. Harada vice president of its claims division. He will be responsible for the strategic planning, development and management of all claims functions.
Prior to joining Island Insurance, Harada was a partner with the law firm of Kawashima, Lorusso & Harada, where he specialized in commercial litigation, professional negligence and insurance defense, representing business interests, health care professionals, accountants, attorneys, and insureds.
Stockton, Calif.-based Westmar Marine Insurance Services appointed Barry Paulsen yacht sales specialist, responsible for building and developing client relationships within the yachting communities to promote specialized yacht insurance products.
Paulsen has more than 30 years of experience in the marine industry as a former boat dealer and marina owner. He owned Barry Paulsen's Boat Center and Barry Paulsen's Yacht Center, and was an active member in the marine trade organizations.
Indianapolis-based MJ Insurance hired Lindsay Lynn as employee benefits consultant in the company's Scottsdale, Ariz., office. She will specialize in plan design and analysis; administrations solutions; health and wellness program development; benefit plan communication; underwriting and health care risk management; and compliance maintenance.
Prior to her new role as an employee benefits consultant, Lynn worked for more than three years as an insurance recruiter in Portland, Ore. Additionally, she worked in human resources with Target.
Willis North America (WNA), a unit of Willis Group Holdings, named Alastair Swift chief placement officer. Swift will relocate from London to New York to lead a team of placement officers across North America. He will direct the overall vision for WNA placement strategy.
Swift has been at Willis since its merger with Hilb Rogal and Hobbs in October 2008, most recently holding the position of managing director, WNA London Property.
Zenith National Insurance Corp. hired Judge Pamela Foust, who has stepped off the bench after 25 years of service in California as a workers' compensation judge. She has written numerous articles on workers' compensation issues and has been a frequent speaker on educational programs.
Pacific Wholesale Insurance Brokers LLC, an ISG Co., named Brian Janes vice president/property broker in the Burbank, Calif., office. His responsibilities include developing his book of property business and spearheading the growth of ISG's Property Group. Janes spent the past nine years working in the wholesale sector, most recently at Swett & Crawford in Los Angeles.
From This Issue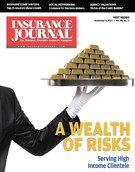 High Income, High Profile; Top Workers' Comp Writers; Residential Contractors