A.M. Best Co. placed the financial strength ratings (FSR) of the insurance subsidiaries operating within Combined Specialty Group Inc. (CSG) under review with negative implications. The rating action follows Aon Corporation's second quarter earnings announcement in which Aon announced it would withdraw previous plans to spin-off CSG, the accident and health and P/C underwriting operations of the organization. The rating action highlights the significant uncertainties surrounding the ultimate ownership of CSG, the adverse impact from one-time charges taken in the second quarter, weaker than expected profits from Aon's underwriting operations and the potentially unfavorable resolution of financial reporting matters involving the SEC.
The ratings will remain under review as Aon evaluates its various options regarding the disposition of CSG.
A.M. Best's indicative senior debt rating of "a-" on securities to be issued by CSG is also placed under review with negative implications and will move in tandem with the financial strength ratings of the group.
From This Issue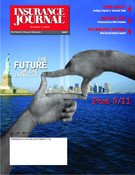 9/11 One Year Later–Cyberliability