Moody's Investors Service revised its outlook on the debt ratings of Willis NorthAmerica Inc., a subsidiary of Willis Group Holdings. to positive from stable. The rating agency commented that improved earnings, future prospects and reduced financial leverage combine to generate a positive outlook.
The ratings reflect the company's franchise as the third largest insurance broker worldwide, its good international competitive position—particularly in the U.K.—its geographical diversification, and the strength of long-standing client relationships. The group has focused on developing a sales culture, generating revenue growth and gaining acceptance as a trading partner by clients and insurance carriers. In addition, over the medium term, the current hard market is benefiting the insurance brokerage industry, and in particular, Willis—since a large portion of its revenue is commission based.
Moody's noted that the company has limited earnings diversification outside of insurance brokerage. The group has initiated a merger and acquisition strategy, primarily to complement existing geographic areas. Moody's believes that integration risk represents a medium term challenge. Further, as an ordinary business matter, insurance brokers are subject to potential liabilities resulting from errors and omissions. While Willis has not been named as a party to any of the litigation involving disputes over insurance coverage terms related to the Sept. 11 attacks on the World Trade Center, Willis was the broker who placed the property and liability coverages. Moody's believes that, given the extensive litigation, uncertainty exists as to whether or not Willis will be brought into the dispute.
From This Issue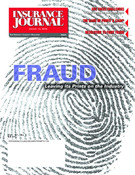 Calendar Issue/ Insurance Fraud