The Connecticut Insurance Department is advising homeowners to prepare their property against potential springtime weather risks, such as excessive rainfall and flooding.
The state's insurance commissioner Thomas Leonardi says it's essential for homeowners to understand their coverage – what they can claim and what they cannot. "We also urge consumers to discuss their coverage thoroughly with their agent or insurance company at least once a year to make sure coverage reflects any recent changes, such as renovations or additions."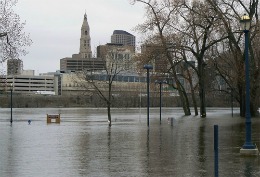 And if it rains, it can flood. A warm, dry winter in Connecticut may have many thinking the risk is low, the commissioner said, but it is always a good idea to prepare for the worst. Floods — or an excess of water (or mud) on normally dry land — are not covered by a typical homeowner's or renter's policy.
Most homes may be eligible for coverage under The National Flood Insurance Program (NFIP). The NFIP offers flood insurance policies for homeowners or renters in communities that participate in the federal program. The insurance department offers more information on its web site.
There is a 30-day waiting period after the purchase of a flood insurance policy before the coverage kicks in, so homeowners need to take that into consideration when determining if and when to purchase coverage.
Commissioner Leonardi also advised that a change of season brings an opportunity to create a home inventory. "As we transition from a mild winter into spring, take the time now to take stock of what you have. A home inventory is valuable for a number of reasons. It can help you determine the types and level of coverage you need before disaster strikes. After a major loss, your home inventory will be a tremendous help when it comes to filing a claim."
There are several simple ways to start building a home inventory. Homeowners can download a home inventory checklist from the insurance department's website. For those using an electronic or paper spreadsheet, it's important to take pictures of their belongings, and save them in the same place as the home inventory.
Homeowners can download the free NAIC myHOME Scr.APP.book app for iPhone or Android smart phones. The app guides through capturing images, descriptions, bar codes and serial numbers, and then storing them electronically for safekeeping. The app also creates a back-up file for email sharing.
Was this article valuable?
Here are more articles you may enjoy.