Some federal funds are due out this summer for Vermont towns hurt by Tropical Storm Irene.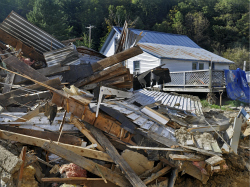 Ray Doherty of Vermont Emergency Management tells Vermont Public Radio the funding will be delivered first to towns, and then to homeowners.

He said the funds are coming in two batches. The first is expected to be approved at the end of June, with money coming in July. The second round is anticipated to be approved by the end of the summer with funds arriving in mid-September.

Many families whose homes were destroyed by Irene are waiting for federal grants that would pay 75 percent of the home's value before the disaster. The grants would also pay 75 percent of the cost of demolishing flood-damaged houses.
Copyright 2021 Associated Press. All rights reserved. This material may not be published, broadcast, rewritten or redistributed.
Was this article valuable?
Here are more articles you may enjoy.