The Hartford Financial Services Group has named Matthew Kirk senior vice president of sales and distribution for the company's commercial markets division. He is based in Hartford, Conn.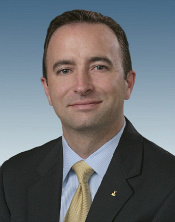 Kirk joined The Hartford in 2006, most recently serving as senior vice president and director of government affairs. He led all governmental interactions for The Hartford during the global financial crisis and managed the company's engagement with regulators and legislators on multiple industry issues.

Prior to joining The Hartford, Kirk served in the White House as deputy assistant for legislative affairs to President George W. Bush. He succeeds Mike Concannon, who was appointed to lead The Hartford's Group Benefits segment earlier this year.

Succeeding Kirk as senior vice president of government affairs will be Jay Rosenblum. Rosenblum will oversee and set strategic direction for The Hartford's state and federal advocacy. He joined the company in 2009 and has led The Hartford's federal affairs team in Washington, D.C., As vice president of federal affairs, he was the company's chief advocate before Congress and the executive branch.
Prior to joining The Hartford, Rosenblum represented the accounting profession in Washington, D.C., for nine years, first at Ernst & Young and later as the head of Grant Thornton's government affairs office. Earlier in his career, he held several roles in the Clinton administration.
And Laura Haines has been promoted to succeed Rosenblum as vice president of federal affairs. Haines has served as assistant vice president for government affairs since 2006. She began her career at The Hartford in 1993 in group benefits sales and was the top group sales producer in 1996 and 1997 for the priority accounts segment.
From 1999 to 2002, Haines worked for Standard Insurance Company selling group life and disability insurance. She returned to The Hartford in 2002 when she joined The Hartford's federal affairs office.
Was this article valuable?
Here are more articles you may enjoy.