The Connecticut Department of Motor Vehicles announced last week that new adult drivers 18 and older will be required to hold a three-month learner's permit before taking a road test for a driver's license. The new requirement will go into effect Jan. 1, 2013.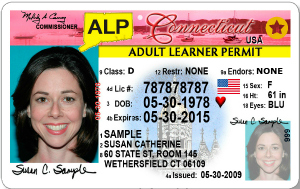 Officials said the new requirement changes 106 years of history in which an adult had no required training period to complete before obtaining a driver's license.

But highway safety issues — including the need to better understand how to operate a vehicle — and learning through practice driving prompted the need now for this requirement.

While many states offer some version of a learner's permit for adults, Connecticut will be among a few that require it, according to state officials.
'Cars Are More Sophisticated Today'
"Cars are more sophisticated today, traveling roads can be more dangerous for inexperienced drivers and some form of a learning period is required now for those over 18, just as we have done for those under 18," said DMV Commissioner Melody A. Currey.
DMV expects that more than 30,000 people annually will be affected by this change. These include teens who delayed licensing to avoid the state's restrictions on 16 and 17-year-old drivers. The 18 and 19 year-olds this year account for about 11,000 who will need a learner's permit as an adult.
"There is more license delay than there used to be, so there are more novices 18 and older, and they are vulnerable during the learner period. Connecticut has been in the forefront of GDL (graduated driver licensing) policy making, and has one of the strongest licensing systems in the country. This new policy extends their leadership in protecting Connecticut drivers," said Allan Williams, an authority on driving safety and an associate of Preusser Research Group, in Trumbull, Conn., which conducts safety studies for the National Highway Traffic Safety Administration.
Highlights of the new requirement are as follows:
• Beginning Jan. 1, 2013, the state of Connecticut will require an adult learner's permit for new drivers who are 18 years old and over other than those holding a valid driver's license from another state.
• The adult learner's permit must be held a minimum of 90 days prior to taking a road test.
• Applicants will get the adult learner permit when they pass the 25-question knowledge test and vision test.
• They will be required under state law to take the current eight-hour safe driving practices course at driving school. Passed in 2008, the law mandates that new first-time license holders must attend this course at a driving school. The cost is set by state law at $125.
• While holding the adult learner's permit, they will need in the vehicle a qualified trainer who is either a licensed driving instructor or any driver who is over 20 years-old who has held a license for four or more consecutive years and has not been suspended at any time in the last four years.
• Anyone over 18 who has taken the 25-question knowledge test prior to Jan. 1, 2013, will have until April 1 to obtain a license and will not need to get a learner's permit.
• Until April 1, any adult receiving on-the-road training with a licensed driving instructor does not need an adult learner's permit.
Topics Personal Auto Connecticut
Was this article valuable?
Here are more articles you may enjoy.