An initiative that sends workers into storm-damaged Staten Island homes in New York to make electrical repairs for free is being suspended because officials say it's getting expensive.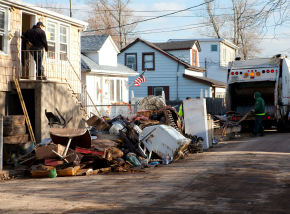 Borough President James Molinaro tells the Staten Island Advance in a story published Wednesday that the QuikStart program is on temporary hiatus. He says officials want to evaluate whether it's affordable.

QuikStart is separate from the citywide NYC Rapid Repairs effort, which continues.

Moliaro says QuikStart has worked on "a couple of hundred" homes, at $400 to $2,000 apiece. The money comes from a Superstorm Sandy relief fund.

Both QuikStart and NYC Rapid Repairs aim to restore power at homes with damaged electrical equipment, so residents can move back in. Rapid Repairs also does some other work to make homes habitable, like repairing boilers.
Copyright 2021 Associated Press. All rights reserved. This material may not be published, broadcast, rewritten or redistributed.
Was this article valuable?
Here are more articles you may enjoy.