Kenneth Kobylowski, who has been serving as acting commissioner of New Jersey Department of Banking and Insurance for the past one year, was recently confirmed by the State Senate to be the new commissioner.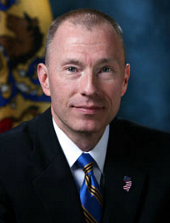 Kobylowski has been serving as the acting commissioner since February 2012 when then-commissioner Tom Considine left the post to become the chief operating officer of MagnaCare, a health plan management company.

N.J. Gov. Chris Christie nominated Kobylowski to serve as Commissioner of Banking and Insurance last January. The appointment was officially confirmed by the State Senate on December 20, 2012.

Kobylowski first joined the Department of Banking and Insurance as chief of staff in February 2010 and took on the additional role of acting director of banking in October 2011. He had served as the chief operating officer for the department with full responsibility for all legislative, regulatory, operational and administrative matters and also served as the department's liaison with other state departments and federal agencies.
Prior to joining the department, Kobylowski was in private law practice for 20 years, beginning at Connell, Foley & Geiser in Roseland, N.J., and then moving to Herrick, Feinstein LLP, first in its New York City office and then in its Newark, N.J., office. He represented a wide array of clients, including banks, insurance companies, lenders, developers and public and private entities.
Before practicing law, Kobylowski began his professional career as a bank analyst at the Federal Reserve Bank of New York.
Topics New Jersey
Was this article valuable?
Here are more articles you may enjoy.