A.M. Best Co. upgraded ratings of Wilkes-Barre, Penn.-based GUARD Insurance Group and its member subsidiaries, citing favorable business operations as well as the implicit and explicit financial support provided by their new parent company, National Indemnity Company (a wholly owned subsidiary of Berkshire Hathaway Inc.).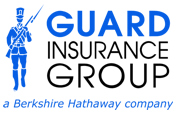 All ratings have been removed from under review with positive implications and assigned a stable outlook.

A.M. Best Co. said on Thursday it upgraded the financial strength rating to A+ (Superior) from A- (Excellent) and issuer credit ratings to "aa-" from "a-" of GUARD Insurance Group members (NorGUARD Insurance Company, AmGUARD Insurance Company, EastGUARD Insurance Company and WestGUARD Insurance Company), which operate under an intercompany pooling agreement.
The ratings boost, A.M. Best said, reflects GUARD's solid capitalization, favorable operating profitability achieved through disciplined underwriting initiatives, as well as the cautious manner in which initial claim reserves are established, which has resulted in favorable reserve development in recent years.
The ratings also acknowledge the implicit and explicit financial support provided by GUARD's new ultimate parent, Berkshire Hathaway Inc., and Berkshire's subsidiary, National Indemnity Company, including significant reinsurance transactions. In addition to Berkshire's track record of supporting its member companies, these transactions demonstrate the explicit commitment provided by Berkshire, for which GUARD members received rating enhancement.
Berkshire Hathaway Inc.'s National Indemnity acquired GUARD Insurance Group last year from its then-parent company Clal U.S. Holdings Inc.
Established in 1983, GUARD Insurance Group offers small- to medium-sized commercial property and casualty accounts, with over $300 million in direct written premium as of year-end 2011.
Was this article valuable?
Here are more articles you may enjoy.