The National Insurance Crime Bureau (NICB) today announced revised estimates for the number of vehicles damaged as a result of Superstorm Sandy.
The current estimate of vehicles damaged as a result of Sandy is now set at 250,500 based on claims processed by insurance companies. New York's number increased from a previous level of 130,000 to 150,000.
This is the complete list of states generating Sandy-related vehicle damage claims in descending order:
New York — 150,000
New Jersey — 60,000
Connecticut — 8,000
Maryland — 5,500
Massachusetts — 5,000
Virginia — 4,500
Ohio — 4,000
Pennsylvania — 4,000
Delaware — 2,000
New Hampshire — 2,000
North Carolina — 1,500
District of Columbia — 1,000
Rhode Island — 1,000
West Virginia — 1,000
Maine — 500
Vermont — 500
Total — 250,500
The National Insurance Crime Bureau said it is important to note that these are preliminary figures and may change as additional claims are received and processed.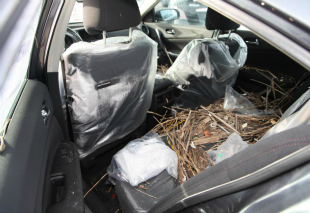 Also, these are insured losses only. The Bureau said there are certainly many uninsured vehicles that were damaged by Sandy and those numbers are not reflected in this information. Moreover, there is no determination as to the extent of damage to these vehicles. They could have sustained minor paint scratches from flying debris, or have been under water for days and rendered total losses.
The National Insurance Crime Bureau said that, by now, there could be many Sandy damaged vehicles that are in the process of being reconditioned and sold to unsuspecting consumers all across the country. It is not illegal to buy or sell flood vehicles, or vehicles declared as salvage, as long as the parties to the sale are aware of the vehicle's status.
The Bureau said consumers should be aware that severely damaged vehicles may appear advertised for sale without any indication that they were at all affected by Sandy. As always, buyers should be careful when considering a used vehicle purchase in the weeks and months following a disaster such as Sandy.
Consumers can download useful checklists and learn more about flood and salvage vehicle scams and post-disaster contractor repair schemes by visiting the NICB website, www.nicb.org. The NICB's VINCheck allows free consumer access to the vehicle salvage records of participating NICB member insurance companies who collectively provide 88 percent of the auto insurance in force.
Anyone with information concerning vehicle theft and insurance fraud can report it anonymously by calling toll-free 1-800-TEL-NICB (1-800-835-6422), texting keyword "fraud" to TIP411 (847411) or by visiting the NICB website. Additionally, iPhone or iPad users can also download the NICB fraud tips app.
Was this article valuable?
Here are more articles you may enjoy.