On the anniversary of Superstorm Sandy, New Jersey Gov. Chris Christie toured the state Tuesday to celebrate New Jersey's progress in recovering from the devastating storm, but he also heard from residents whose lives are still in tatters.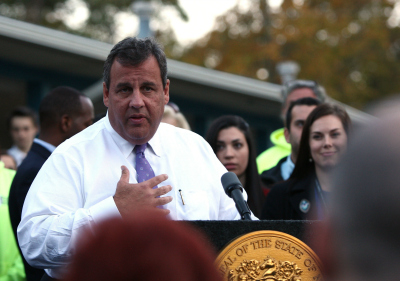 Visiting a flood-damaged firehouse in Seaside Park, with bare drywall and dangling wires, the governor said Tuesday was a day to remember volunteers and first responders who risked their lives to save others.

Christie, who stayed overnight at the governor's beach house in neighboring Island Beach State Park, said he woke up struck by "just how much different we all feel a year later."

"I want us to think of how much better things look today than they did a year ago, and celebrate that," Christie said. "We also have to acknowledge that there's still thousands of people out of their homes. For them, it doesn't matter that there are tens of thousands of people back in their homes. I can't break faith with these people. Until they're back home, we can't forget them. We are all not whole until everybody individually is whole."
Christie is expected to be easily re-elected next week after a campaign in which he touted his handling of the storm aftermath as one of his main accomplishments. But he also has come under fire from some Sandy victims who have gotten little or no money from a multitude of federal and state aid programs.
One of them is Debbie Fortier of Brick, who came to Seaside Park to meet the governor. Walking out arm-in-arm with him after he had finished speaking at the firehouse, she told Christie how her family's house had to be torn down and how her family has yet to receive any aid.
"We're physically, emotionally and spiritually just drained," she said after Christie left. "Does anybody hear us?"
She said she is on a waiting list "for everything," and is particularly bitter that her family started to repair their storm-damaged house only to have inspectors later tell them it was too badly damaged to fix. They then had to knock it down and move into a friend's basement.
"How long am I supposed to wait?" she asked. "It's been a year. You can't just not move forward."
Fortier said she takes Christie at his word that help is on the way — whenever that might be.
Later in the day, Christie visited Union Beach, a Raritan Bay community devastated by the storm. A block away from where the governor visited a storm-damaged home being rebuilt by volunteers, James and Sharon O'Brien posted a large wooden sign on their front lawn protesting the exclusion of second homes from post-Sandy aid programs.
"We need help, not boardwalks," the sign read. "Second homes cost money, too. Landlords provide homes, not funnel cakes, high-priced games, stuffed animals or rides. Our second house is still a pile of dirt. Help one, help all."
"I don't mind getting people back into their primary homes," Sharon O'Brien said. "But we should be exempted from taxes if we're exempted from aid."
As Christie was walking away, she called out, "Secondary home owners need help, too!" but there was no indication the governor heard her.
John Ciangiotto, a 75-year-old whose house was being repaired by the volunteers, said he initially didn't want to stay in Union Beach; he said a contractor he hired disappeared after starting work. He said he is amazed at the help he has gotten from strangers.
"I'm as emotional today as I was the day of the storm," he said.
Christie attended an interfaith service at Newark's New Hope Baptist Church, where pastor Joe Carter said he misses the spirit of cooperation that emerged right after the storm.
"When the lights went out, nobody cared what color you were," he said.
In a brief interview with The Associated Press outside the church, Christie said he has always believed it would take 18 to 24 months to get most people's lives back to normal, "and it's proven to be just that, and so we're just going to keep working at it, there's no reason for us to despair today."
Later in the day Christie greeted firefighters in Sayreville, the Raritan Bay community where his administration just completed the purchase of two homes under a state buyout program for flood-prone areas. He also was to attend a ceremony in Belmar, the first shore town to rebuild its boardwalk after the storm, and one in storm-tossed Sea Bright.
Copyright 2020 Associated Press. All rights reserved. This material may not be published, broadcast, rewritten or redistributed.
Was this article valuable?
Here are more articles you may enjoy.