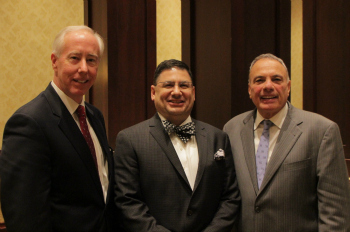 Starkweather & Shepley Insurance Brokerage Inc., the largest independent insurance agency in Rhode Island, has announced a leadership succession plan.

The agency said Nat Calamis, president and chief executive officer, and William McGillivray, chairman and chief financial officer, will be retiring at the end of 2016.

Effective Jan. 1, 2017, Larry Keefe will take over as chairman and CEO, and David Soforenko will be named president and chief operating officer.
Keefe has had over 30 years of experience working at Starkweather & Shepley and has held leadership positions within the agency.
Soforenko has been with the agency for the past 21 years and has led the sales team for the past six years.
Founded in 1879, Starkweather & Shepley is based in East Providence, Rhode Island, with 11 additional offices across New England, and a location in Fort Myers, Florida. The agency currently has 207 employees. Starkweather & Shepley was ranked 41st in Insurance Journal's Top 100 Property/Casualty Agencies list in 2015.
Topics Leadership
Was this article valuable?
Here are more articles you may enjoy.