A National Rifle Association lawsuit accusing New York's financial regulator of wrongfully investigating marketing of NRA-branded insurance products in the state suffered a setback on Friday.
Senior U.S. District Judge Thomas McAvoy in Albany dismissed the NRA's claim that the Department of Financial Services selectively enforced state law when it issued millions of dollars in fines against two companies that helped the group sell products to its members that critics dubbed "murder insurance."
The NRA claims the DFS investigation was part of an ongoing political vendetta led by New York Governor Andrew Cuomo, who has frequently criticized the organization.
The NRA's lawyer, William Brewer, said the ruling explicitly allows his client to amend its claims. The NRA's First Amendment claim that New York's efforts were aimed to stifle the group's free-speech rights wasn't impacted by the ruling, he said.
"Our client is confident that discovery will confirm that defendants knew exactly what they were doing: ignoring similar or identical conduct across the insurance marketplace, while singling out the NRA for political reasons," Brewer said in a statement.
McAvoy, appointed in 1983 by former President Ronald Reagan, also dismissed the gun-rights organization's claims for monetary damages against Cuomo and Maria Vullo, the former superintendent of DFS who started the probe in 2017 after a spate of deadly mass shootings.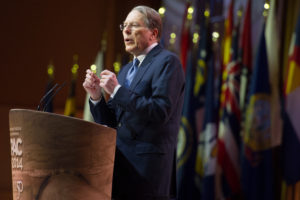 The decision is another setback for the NRA in New York, where the state's attorney general, Letitia James, is separately investigating the organization's nonprofit status. James, a Democrat and a staunch gun-control advocate, started the probe after the New Yorker magazine reported on allegations of self-dealing at the NRA.
The judge in Albany found the NRA failed to point to any specific statements by Cuomo or Vullo suggesting they were aware of possible violations by other affinity groups and "consciously declined" to prosecute them.
DFS said a probe found the NRA illegally marketed its insurance product, called Carry Guard, in New York without having a license to do so. Carry Guard policies covered bodily injury or property damages that result from the legal use of a firearm. The investigation resulted in insurer Chubb Ltd. and insurance broker Lockton Cos. halting their programs for NRA members and paying millions of dollars in fines.
The NRA sued the regulator and Vullo in May 2018 for allegedly violating the group's constitutional rights by pressuring the insurance companies.
Related:
Copyright 2021 Bloomberg.
Topics New York
Was this article valuable?
Here are more articles you may enjoy.