New York Governor Andrew Cuomo has announced a reopening plan for New York businesses that includes four phases, each allowing businesses in select industries to open their doors.
Businesses that are considered more essential, or that have an inherently lower risk of infection in the workplace and to customers, will be prioritized, according to the governor's plan. These will be followed by businesses that are considered less essential, or those that present a higher risk of infection spread. Cuomo has also mandated that New York regions must not open attractions or businesses that would draw a large number of visitors from outside the local area.
"While we continue to reduce the spread of the COVID-19 virus, we can begin to focus on re-opening, but we have to be careful and use the information we've learned so we don't erase the strides we've already made," Cuomo said in a May 4 press conference.
The construction, manufacturing and wholesale supply chain as well as select retail businesses using curbside pickup only are the first to receive priority in the governor's phased reopening plan.
Phase two of the plan allows professional services, finance and insurance companies, retail, administrative support services, real estate and rental leasing companies to re-open. Phase three lists restaurants and food service companies as well as hotels and accommodations, while the arts, entertainment, recreation and education industries will be among the last allowed to resume business.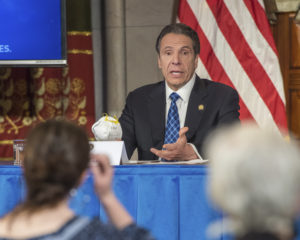 Cuomo issued additional guidance for businesses as they reopen, stating that each business and industry should have a plan in place to protect employees and customers and make the physical work space safer, as well as implement processes that lower the risk of infection within the business.
Examples of these initiatives include adjusting workplace hours and design to reduce density, enacting social distancing protocols, restricting non-essential travel for employees and requiring all employees and customers to wear masks if in contact with others. Businesses are also urged to implement strict cleaning and sanitation standards, hold continual health screenings for those entering the workplace, trace, track and report all COVID-19 cases and develop liability processes.
As New York state, the hardest hit state in the U.S. by the virus so far, begins to think about re-opening by region, Cuomo has said the state is monitoring four core factors within each region. This includes the rate of new infections, health care capacity, diagnostic testing capacity and contact tracing capacity.
"…we will continue to monitor these factors throughout the re-opening process to prevent a second wave of the virus and protect the health and safety New Yorkers," he said during the conference.
The governor has confirmed 2,538 additional cases of novel coronavirus, bringing the statewide total to 318,953 confirmed cases in New York state, according to a press release issued by his office. Of the 318,953 total individuals who tested positive for the virus, 175,651 of those cases have been in New York City, the release stated.
Topics New York New Markets
Was this article valuable?
Here are more articles you may enjoy.