The Association of Professional Insurance Women, Inc. (APIW) announced that Fiona Luck has been selected as this year's recipient of the APIW Insurance Woman of the Year Award.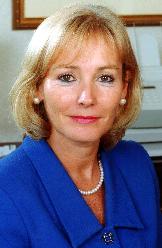 Luck is executive vice president, Group Operations & Assistant Secretary of XL Capital Ltd., the Bermuda-based holding company of the XL group of companies which provide insurance, reinsurance, and financial products to industrial, commercial and professional service firms, insurance companies, and other enterprises on a worldwide basis. As the highest ranking woman executive of XL and as a member of its Executive Management Board, Luck is responsible for strategic planning, business planning, global human resources, global information technology, global marketing and internal audit.
Commenting on the award, Brian O'Hara, president and CEO, noted, "Fiona is the icon of the executive insurance woman and I believe she is the ideal candidate for the APIW Insurance Woman of the Year in 2003. Her exemplary leadership and achievements have added tremendous value to our organization. Her most significant contribution to XL has been her role in heading strategic planning. Her latest achievement is an external communications program that was launched earlier this year. Part of this communications program is XL's re-branding and advertising campaign."
The annual APIW Insurance Woman of the Year Award, first presented in 1976, recognizes an exceptional woman who has achieved prominence in the industry. The award recognizes Luck's achievements and innovations in the industry, as well as her commitment to fostering the growth and development of women.
Luck began her insurance career with Marsh Captive Management in 1983.
In 1997, Luck joined Ace Ltd. and in 1998 was elected as executive vice president for Joint Ventures and Strategic Alliances. She joined XL Capital in 1999 in a newly-created position of EVP, Group Operations. She has overseen the development of global human resources, global information technology, global marketing facilities, internal audit and implemented XL Global Services which provides a vehicle for these functions throughout the world.
Was this article valuable?
Here are more articles you may enjoy.