The cruise ship industry faces an uphill task to restore confidence among customers spooked by images of the stricken Costa Concordia flipped on its side in Italian waters on Monday and could suffer a hit to sales in a key booking period.
Carnival, the owner of the cruise ship that capsized off Italy's west coast, said it alone expected to take a hit of around $90 million from Friday's accident just as a result of the boat being out of use for the rest of the year.
"The long-term consequences for the cruise industry could be significant. This accident could have a significant impact in terms of trading because we're in the peak-season for reservations," said Natixis analyst Geoffrey d'Halluin.
The first quarter is a critical booking period across the tourism industry and the images are unlikely to encourage holidaymakers already facing tough economic headwinds to opt for a cruise.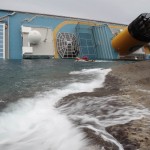 "I think it's going to be horrid, short term," Numis analyst Wyn Ellis told Reuters. "There will be a definite short-term impact because it's a key booking period and many people will be put off cruising in the short term."
Travel industry analyst Mark Murphy said since cruise ship vacation industry is still in its infancy in the United States with only 20 percent of Americans having been on a cruise.
"The problem is this could impact the other 80 percent who are yet to try cruises," said Murphy.
He said the cruise industry was already forecasting cheaper fares for 2012 to help counter the impact of the soft U.S. economy and an imminent European recession.
"I think they'll get cancellations in the short term but they'll recover nicely. It's a great cash flow business."
Ellis also believes the industry will recover in the long-term.
"I think people have very short memories. This summer's going to be awful but in terms of the long term valuations and the fundamentals of the industry I think the impact will be marginal," he said.
Carnival had already warned in December that it had lowered its prices for 2012 cruises because of weaker demand in Europe as the euro zone crisis took its toll.
Shares in Carnival were down 16.5 percent to 1,856 pence by the close of trading, knocking nearly 700 million pounds ($1.07 billion) off the company's value. Rival Royal Caribbean Cruises' Oslo-listed shares ended the day down 7.7 percent.
Carnival said the Costa Concordia is expected to be out of service for at least the remainder of its financial year.
"For the fiscal year ending November 30, the impact to 2012 earnings for loss of use is expected to be approximately $85-$95 million or $0.11-$0.12 per share."
That impact is from loss of use of the ship alone and does not take into account the likely impact on bookings. Carnival said it anticipated further costs to the business that it was too early to determine.
Costa Concordia is insured for 405 million euros ($513 million) by insurers including XL, RSA and Generali, with specialist marine insurers providing extra cover for potential injury claims, industry sources said.
An RSA spokesperson said the company's exposure to the disaster was below 10 million euros, while a spokesperson for Generali said the impact on the company would be small. XL could not immediately be reached.
Market expectations for Carnival's earnings before interest and tax (EBIT) currently range between $2.36 billion and $2.64 billion with the average at $2.47 billion, according to a Thomson Reuters I/B/E/S poll of 11 analysts. The average forecast for earnings per shares stands at $2.67.
Carnival and Royal Caribbean account for around three-quarters of the global market.
Europe's two biggest travel companies by sales, TUI Travel and Thomas Cook, also have sizeable cruise ship businesses. Shares in TUI Travel were up 3.2 percent to 166.9 pence with Thomas Cook unchanged at 15.25 pence.
Global demand for cruises almost doubled from 9.7 million passengers in 2000 to 18.8 million in 2010 and the industry generates annual revenue of over 35 billion euros ($44 billion)in Europe alone.
Carnival's Chairman and Chief Executive Micky Arison said the company was prioritising the safety of its passengers and crew.
"We are deeply saddened by this tragic event and our hearts go out to everyone affected by the grounding of the Costa Concordia and especially to the families and loved ones of those who lost their lives."
Rescue workers searching the ship for missing passengers and crew recovered a sixth body on Monday.
($1 = 0.7895 euros) ($1 = 0.6542 British pounds)
(Additional reporting by Kate Holton and Philip Baillie in London; Yinka Adegoke in New York; Editing by Hans-Juergen Peters)
Was this article valuable?
Here are more articles you may enjoy.