The failure to tackle climate change and extreme weather events are the most threatening global risks this year, according to the World Economic Forum.
Inability to mitigate or adapt to climate change leapfrogged several places on the list as the second-most likely risk facing the world in 2019 after extreme weather events, the WEF said in a report published Wednesday. What's more, worsening international relations mean the capacity to deal with those major problems has plummeted. [Editor's note: for more detailed coverage of the WEF report, see Insurance Journal article titled "Enviro Risks, Climate Change Lead Concerns in World Economic Report."]
Devastating wildfires, tsunamis and other natural disasters killed over 10,000 people in 2018. The catastrophes fueled above-average economic losses of $160 billion, according to insurer Munich Re AG. Those from wildfires in particular have risen as summers become hotter and drier, with the Camp Fire in California proving last year's most expensive natural catastrophe.
In fourth and fifth place are massive incidents of data fraud or theft, and large-scale cyber attacks. That's likely a reflection of widespread hacking by Russia and other cyber invaders, and increasing concerns over the ability of companies like Facebook Inc. to keep users' personal information safe.
–With assistance from Hayley Warren.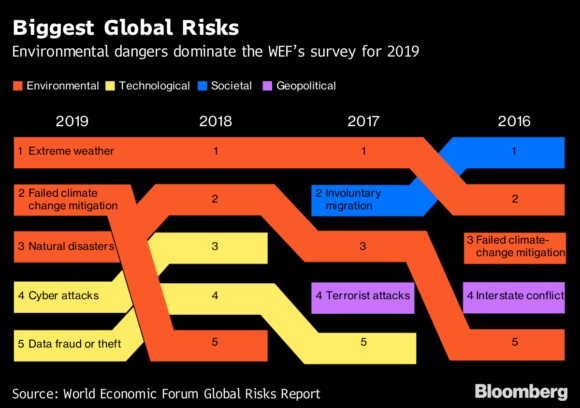 Related:
Copyright 2020 Bloomberg.
Was this article valuable?
Here are more articles you may enjoy.