Democratic Republic of Congo's insurance regulator granted six new licenses to companies including a division of Erik Prince's Frontier Services Group Ltd.
The regulatory authority, known as ARCA, approved licenses to three insurance providers and three brokerages, it said in an emailed statement.
Global Pionner Assurance SA, a subsidiary of Frontier Services Group's Congo unit, received a license, as did divisions of the pan-African Sunu Group, and Kenya's Mayfair Insurance Co., according to the statement.
Congo, which opened up its market to private insurers last year, now has eight insurance companies and seven brokerages, ARCA said.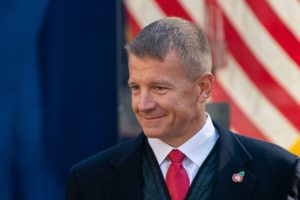 Prince is founder, deputy chairman and an executive director of the Hong Kong-listed Frontier Services Group, according to the company's website. He rose to fame as founder of the security firm Blackwater Worldwide and is brother of Betsy DeVos, the U.S. Secretary of Education in the Trump administration.
FSG did not respond to an emailed request for comment sent to an address provided by the company's office in Dubai. The company also has a security firm, Frontier Services Group Securite Sarl and a trucking company, Cheetah Logistics Sarl, in Congo.
Copyright 2020 Bloomberg.
Was this article valuable?
Here are more articles you may enjoy.