Global reinsurer MS Amlin AG announced the appointment of Robert Wiest as chief executive officer. Wiest will take up the role on Jan. 3, 2022 and will be based in Zurich, Switzerland.
He replaces Christopher Beazley who stepped down in September after three years as CEO in order to pursue other opportunities.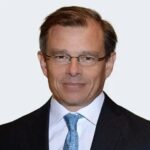 Wiest brings over 30 years of industry experience. During a career at Swiss Re spanning over two decades, most recently as chief operating officer, Wiest led business units as the head of Global Business Solutions, head of Strategy and Operations for Asia, and head of Western and Southern Europe, the Middle East, and Turkey.
He has also led high-level business development, transformational and digitization projects globally. Wiest's international experience across key markets is well suited to drive continued growth and innovation at MS AAG.
Wiest will assume the position from Martin Albers, chairman of the board of directors, who is currently serving as CEO on an interim basis. Albers will work with Wiest upon his appointment to ensure the continuation of a high-level of service through the transition.
"We are delighted that Robert has stepped forward to take up the mantle at MS AAG. Robert is one of the sector's highly regarded leaders with a track record that speaks for itself. He brings an innovative, responsive approach to leading ambitious growth projects in high-profile reinsurance organizations," commented Tamaki Kawate, director and senior executive officer at Mitsui Sumitomo Insurance Co. Ltd., MS Amlin's parent company.
"His unrivaled expertise and leadership credentials will be integral to taking MS AAG forward as it continues on its journey to develop a diverse, efficient, profitable and client-focused business," added Kawate.
Source: MS Amlin AG
Topics Mississippi Swiss Re
Was this article valuable?
Here are more articles you may enjoy.