Thailand is mandating Covid insurance for foreign visitors from countries that require negative RT-PCR test results before returning home, reinstating the entry rule ahead of the likely arrival of Chinese tourists in large numbers.
The insurance rule will ensure that visitors who test positive for the virus will be able to afford treatment in Thailand before leaving the country, Health Minister Anutin Charnvirakul told reporters after a meeting on Thursday with health and tourism authorities.
Thailand had scrapped all Covid-related entry restrictions last year, including the requirements for insurance and proof of vaccinations. Southeast Asia's second-largest economy drew about 11.5 million foreign visitors last year, compared with 40 million before the pandemic in 2019 — when nearly a quarter were from China.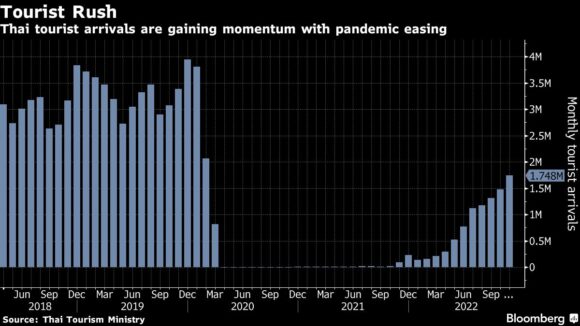 Although the reinstatement of the insurance policy is narrow, Thailand joins a host of nations including Japan, Canada and France in tightening rules since Beijing announced border easing. Thailand expects 300,000 Chinese visitors in the first quarter of this year, Anutin said Wednesday.
Anutin said Thailand isn't imposing any entry rules targeting specific nations, but only seeks to introduce safety measures that correspond with the rules in place in peoples' home countries. While China requires a 48-hour negative PCR test result for all incoming travelers, India has imposed a similar mandate for visitors from five countries including Thailand and China.
The insurance requirement, effective next week, comes as China is rapidly dismantling its zero-tolerance policies, reopening the country to the world and scrapping quarantine for arrivals from Jan. 8. The world's most-populous nation, seeking to revive its economy, will gradually reopen border checkpoints with Hong Kong from Sunday.
The Thai government will offer booster vaccines for foreign tourists at hospitals across the country at a cost, Anutin said. Thais are advised to be vaccinated with four doses and urged to wear masks in "risky" areas, he said.
Visitors to Thailand won't be required to produce proof of vaccination at this time, said Tanes Petsuwan, a deputy governor of the Tourism Authority of Thailand.
The government last week increased its target for foreign visitors in 2023 to 25 million, with China easing rules on outbound travel being one factor. Foreign tourist receipts are expected to bounce back to 80% of pre-pandemic levels at 1.5 trillion baht ($44 billion), while the larger tourism sector that includes domestic travel is expected to generate 2.38 trillion baht in revenue.
Copyright 2023 Bloomberg.
Topics COVID-19
Was this article valuable?
Here are more articles you may enjoy.