The U.S. Army Corps of Engineers this week is launching a study of permanent flood protection for the Souris River Basin in North Dakota, which includes Minot.
The Corps will look at the cost-effectiveness and environmental impacts of various flood control alternatives. The study is expected to take about three years. A report ultimately will include an assessment of the alternatives and a recommendation. Implementation and federal funding would require congressional approval.
"What the study is asked to do is find the best alternatives to meet the purpose and need, achieving the best benefit-to-cost," said Col. Daniel Koprowski, district commander for the Corps. "It will be a border-to-border look at the river."
The Souris River enters North Dakota from Canada, loops down through Minot and meanders back across the border.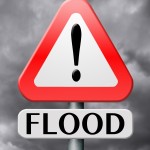 In June 2011, heavy spring snowmelt and rains sent the river over its banks and resulted in an estimated $700 million in damage in Minot and additional damage in rural areas. Minot already has received some federal funding for more immediate flood-related work, including money for a $25.7 million flood wall under construction around the city's water treatment plant.
Long-term flood protection for the region is among a select group of projects the Corps has chosen to study this year. Congress earlier approved $200,000 for the study and is pushing for another $500,000 to continue it in the next fiscal year, according to North Dakota's two U.S. senators, John Hoeven and Heidi Heitkamp.
The state also has provided $225 million so far for flood recovery and protection in the Minot region, according to Gov. Jack Dalrymple.
Permanent flood protection could cost as much as $1 billion.
"This whole effort will be jump-started by the tremendous amount of work that's already been done," said Michael Bart, chief of engineering and construction in the Corps' St. Paul District. "We are at a more advanced state when we start this study. All that information will be used in some manner."
Related:
Copyright 2021 Associated Press. All rights reserved. This material may not be published, broadcast, rewritten or redistributed.
Topics Flood New Markets North Dakota
Was this article valuable?
Here are more articles you may enjoy.