A major online provider of commercial insurance for small businesses in the United States keeps track of its growth milestones with hockey pucks. OK, that might be a bit of a stretch but Chicago-based Insureon definitely has found hockey pucks to be useful targets for, well, targeting growth.
"You can't come into the office and not see hockey, that's for sure. It's all over the place," said Insureon CEO Ted Devine, a former high school hockey player who also coaches youth teams.
He explained that when he joined Insureon the company had about $20 million in premium after purchasing a small agency in Texas. Setting a premium goal of $25 million, they wrote $25 on a hockey puck to symbolize that goal. Next came a $50 puck, a $75 puck, a $100 puck and so on. Now that the company has surpassed $250 million in premium "we've got a lot of hockey pucks," he said.
Launched in 2011 by TechInsurance Group LLC, which at the time specialized in insuring technology firms, Insureon was created as an expansion into online insurance offerings for businesses of all kinds. In 2012 it had around 6,000 small business customers, according to information on the company's website. Today, Insureon's customer base is around 150,000, growing at a rate of about 25 percent to 30 percent per year, Devine said.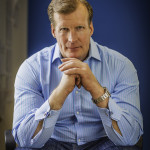 That kind of growth doesn't come without risk and the way Devine sees it the biggest threat Insureon faces today is complacency.
"I think our biggest risk is not improving fast enough, like any company," Devine said.
"We're the largest online small commercial provider in the U.S. and we can't rest on our laurels. We have to get better every day. We've got to make our technology better every day. We've got to add better and better products," he added.
Producer training, process improvement, marketing — those are all areas that need to be continuously monitored and upgraded, he said.
"My dad taught me a long time ago a phrase that I've kept near and dear to my heart, which is you have to be comfortably uncomfortable. We are constantly comfortably uncomfortable," Devine said.
Beyond the need to continually improve, there are other risks, he said. "We're a technology company. We have all the risks that any technology company would have."
Insureon doesn't keep Social Security numbers or online payment information but it does have risks as an online technology company and "we also have the risk of giving people advice," Devine said. "We're a professional services firm at heart, so we've got our own professional liability risk, just like everybody else."
Not a Disruptor
Unlike some other, newer, online insurance providers Insureon in no way sees itself as an insurance industry "disruptor."
"Some other players who are new use terms like that. They're proud of being part of the revolution. That's not who we are. We are very proud to be part of the insurance industry. We are very proud to work with seven of the 10 largest and most respected insurance carriers in the U.S. We're proud to have and the ability to offer their products to our customers," Devine said.
While there are a lot of new start-ups in the insurance technology sector, Devine said they face many of the same hurdles Insureon has had to overcome and may not yet realize how difficult it is.
It has taken four-and-a-half years and a very large investment to build the necessary connectivity to carriers that has enabled Insureon to create its model, and deliver products and services to its customers, he said. There's "an incredible amount of technology integration, an incredible amount of application design to make sure the user experience is really efficient."
He recognized there are other players in the online business that are doing it well. "A company like Hiscox comes to mind. They've been, I think, very, very successful. There are also carriers that are experimenting with going direct themselves. I really believe that real innovation here is going to come from streamlining the product," Devine said.
Though Insureon does sell directly to the small business consumer, Devine said the company also works with independent agents. "We service and serve thousands of independent insurance agents and insurers and we are very proud of that support."
To further serve independent agents, the company this year formed a new managing general agency (MGA), Insureon Underwriting Managers, which operates as a division of Insurance Noodle, the company's wholesale brokerage subsidiary.
While additional products are planned, the new MGA launched with offerings that include niche coverage for coastal homeowners — including named-storm coverage — and for home-based business risks.
But the bottom line is, "our focus is making the small business heroes of America get the right insurance as easy as possible, so that they can continue to focus on doing what they really want to do, which is running a small business," Devine said.
Technology is making the process for securing commercial insurance for small businesses easier, Devine said. And as a 24/7 online business, Insureon's goal is to help small business owners with their insurance needs at the times those businesses want assistance. But, Devine said, "often small business owners want to talk to somebody just to make sure that they've got the right coverage."
In that event, they would have access to any of 75 brokers "who are divided in specialty desks, so they can talk to somebody that's an expert in their field," he said. Whether it's a tech consultant, a contractor, a restaurant owner, a retailer or a nurse, "they need to be able to talk to somebody who really, really understands their" business.
Devine stressed that the insurance business is really a specialty business and small businesses need to have access to specialists.
"If you're a janitor, and you're working in an office building, we need to talk about lost key coverage. Every single vertical has very specialized risks. If you can't talk to an agent or broker that understands the risks of your business, then you're probably not being covered correctly," he said.
Related:
Was this article valuable?
Here are more articles you may enjoy.