A central Indiana apartment complex ravaged by a 2016 tornado has reopened its first renovated units more than two years after that storm.
About three dozen one-bedroom units reopened last week in one building at Park Place Apartments, which was condemned after the Aug. 24, 2016, storm roared through Kokomo, leaving four of its apartment buildings in shambles.
Property manager Pam Reed tells the Kokomo Tribune that kitchen walls have been removed in every unit to give them a more spacious feel. Each unit has new cabinets, bathrooms and appliances.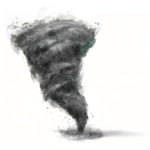 Park Place owner Gabriel Naranjo say the entire apartment complex should reopen sometime next year in the city about 40 miles north of Indianapolis.
Naranjo says that dealing with insurance and construction timelines slowed down the $20 million project.
Copyright 2021 Associated Press. All rights reserved. This material may not be published, broadcast, rewritten or redistributed.
Was this article valuable?
Here are more articles you may enjoy.