New CEO, COO at Michigan's Frankenmuth Insurance
Frankenmuth Insurance in Frankenmuth, Michigan, named Fred Edmond president and chief executive officer. Edmond formerly served as the company's president and chief operating officer,
Succeeding Edmond as chief operating officer is Andy Knudsen. Both appointments were effective Sept. 3.
Edmond has 37 years of industry experience and 23 years of service with Frankenmuth Insurance. He began his career with Frankenmuth Insurance serving as group coordinator in the marketing department.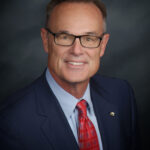 He later transitioned to group coordinator and sales manager (Michigan) in 2001 and sales manager (Michigan-Wisconsin-Ohio) in 2004. In 2005, he was promoted to vice president, to senior vice president in 2012, and to president and chief operating officer in 2014. He has also served on the board of directors for Frankenmuth Insurance and its six subsidiaries since 2008.
In addition to serving as COO, Knudsen will continue in his role as executive vice president and corporate secretary.
Knudsen has 32 years of claims management experience and has been with Frankenmuth Insurance for more than eight years. Earlier this year, Knudsen was elected to the board of directors for Frankenmuth Insurance and its six subsidiary companies.
Lockton Names Kerrigan AVP in Cleveland
Kansas City-based global insurance services firm, Lockton, appointed Jessica Kerrigan as assistant vice president in the firm's Cleveland, Ohio, office.
With almost two decades in the industry, Kerrigan joins Lockton with extensive experience in a variety of roles including brokerage and underwriting. In her role as assistant vice president, she will focus on serving as an extension to her clients' risk management teams, developing uniquely tailored programs, and delivering on carefully executed strategy and planning efforts.
Kerrigan's hire comes at a significant time as Lockton's Cleveland office continues to grow. In her role, Kerrigan will engage with a range of industries including chemical, manufacturing, and private equity, and company sizes including middle market, upper market and global firms.
Was this article valuable?
Here are more articles you may enjoy.