MarketScout reported recently that calendar year 2004 will end with an average 2 percent increase in composite property and casualty premiums.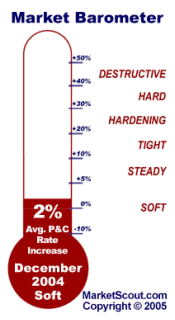 The year began in January 2004 with increases averaging 11 percent, a major downward correction from 27 percent in January of 2003. As the year progressed, the average increase slipped to 7 percent in June and progressively adjusted downward to the 2 percent average rate increase for December of 2004.
Richard Kerr, chairman and CEO of MarketScout (www.marketscout.com) commented, "According to ISO, the property and casualty insurance industry's net income after taxes rose over 28% in the first nine months of 2004. Combined loss and expense ratios have improved for most insurers, even after factoring in the four hurricanes of 2004. We anticipate continued rate declines in most lines of coverage throughout 2005. Large property and casualty accounts will experience the greatest overall rate decreases. D&O pricing will decrease as well, mostly because the price went up so dramatically in 2002 and 2003, not because underwriters feel the risk of writing D&O has lessened. Pricing for auto liability, EPLI, fiduciary and surety coverages should continue to be fairly stable. As for all the other P&C coverages, the price is going down."
Was this article valuable?
Here are more articles you may enjoy.