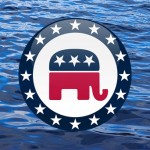 Draft legislation to overhaul the U.S. National Flood Insurance Program will be unveiled next week, said the Republican chairman of a congressional insurance oversight panel Thursday.
Representative Judy Biggert told Reuters she will present the draft March 11 at a hearing of the House insurance subcommittee she chairs, kicking off what could be a lengthy debate on a deeply troubled government program.
"We want to make sure we can find some way that taxpayers aren't going to be on the line for a lot of money, which of course has been the case," Biggert said. "We've got a draft. We're working on it. We'll be bringing it up" on March 11.
The draft excludes wind damage coverage — a point of contention that wrecked the last overhaul effort in 2009.
"I don't think that we have it in there … Not so far. I'm sure that somebody will bring it up," Biggert said.
Big insurers with a stake in the NFIP debate include Allstate,, Travelers, Hartford Financial Services Group and Fidelity National Financial.
The NFIP insures more than 5.5 million homes and businesses against floods, the most common of U.S. natural disasters. It has been deeply in debt since the costly hurricanes of 2004 and 2005. Repeated efforts in Congress to fix it have failed.
Standard homeowners' insurance does not cover flooding. This coverage must be purchased through the NFIP, which is administered by the Federal Emergency Management Agency.
The program provides flood coverage through more than 90 companies that sell policies and collect premiums on the government's behalf for a fee. The premiums go to FEMA.
Since 2008, the program has functioned under a series of short-term extensions. Last year, Congress let the program lapse four times, meaning new flood insurance policies could not be written and complicating thousands of real estate transactions daily in flood-prone regions.
Biggert said her draft does not yet have a firm strategy for dealing with the NFIP's debt. "We haven't reached that conclusion," she added.
(Editing by Andre Grenon)
Topics USA Flood New Markets Politics
Was this article valuable?
Here are more articles you may enjoy.