American International Group today revealed what the company described as "a refreshed AIG logo," featuring a modernized design and new color palate.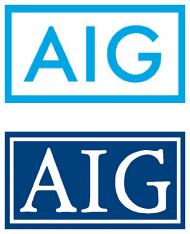 The updated logo will begin appearing widely in the company's advertising and marketing later this fall, according to the announcement.

The refreshed AIG logo will be used in a limited capacity until the company completes the rebrand of its property/casualty and life and retirement segments later this fall.

When the rebrand is complete, AIG's property/casualty segment, currently named Chartis, will become AIG in most locations.

The company's life and retirement segment, currently known as SunAmerica Financial Group, will become AIG Life and Retirement.

"AIG's clients, investors, and the general public are increasingly recognizing that AIG has made America whole plus a profit," said CEO Robert Benmosche.

"Our new logo reflects a rebuilt and forward looking AIG – contemporary, dynamic, transparent, and revitalized. Every day, we are working to build on that accomplishment by continuing to innovate, while providing our clients with outstanding products and services."

AIG is a leading international insurance organization serving customers in more than 130 countries. The insurer, which received a $182 billion bailout from the U.S. Treasury Department in 2008, has repaid most of the government's bailout funds. The Treasury's latest stock sale in September lowered the U.S. government's ownership of the company to 16 percent.
Topics AIG
Was this article valuable?
Here are more articles you may enjoy.