Ratings analysts at A.M. Best Co. said that it is likely that the brunt of Hurricane Sandy's financial impact will fall on the National Flood Insurance Program (NFIP), which is responsible for almost all flood coverage in the country.
For most private primary property/casualty insurers, the biggest impacts from Sandy are likely to be wind and downed tree damage to roofs and cars, as well as business interruption losses from prolonged power outages.
As a whole, the industry is well capitalized to absorb the financial impact of this type of event, according to A.M. Best. However, individual companies may be negatively affected, depending on where they write and their degree of risk concentration relative to the ultimate path of the storm.
Catastrophe modeling firm Eqecat has estimated that insurers may be hit with up to $10 billion in claims.
Over the past several years, catastrophe risk management efforts have been under way to address this type of potential loss scenario. In particular, insurance companies have implemented exposure management initiatives, percentage deductibles and pricing changes. The ultimate effectiveness of these programs may be tested by Hurricane Sandy, A.M. Best said.
The NFIP paid out $1.28 billion in losses last year from Hurricane Irene, making it the fourth-costliest flood event of the last generation. Compared to Irene, Sandy is expected to produce a much broader surge impact, as landfall is expected to coincide with the lunar tide. According to the National Oceanic and Atmospheric Administration (NOAA), Sandy could be the largest storm ever to hit the United States.
Top Insurers in States Exposed to Hurricane Sandy
Additionally, to examine insurers in states exposed to the storm, research firm SNL Financial looked at the top writers of homeowners and commercial multiperil policies in New Jersey, Delaware, Maryland, Pennsylvania, New York and the District of Columbia.
SNL Financial said that while other lines of business could potentially be affected, such as policies for auto coverage, homeowners and commercial multiperil accounted for more than half of the catastrophe premiums written by the majority of insurers in the region, as of the year ended Dec. 31, 2011.
State Farm Mutual Automobile Insurance Co. and Allstate Corp. were at the top of the list and together accounted for nearly a quarter of the overall premiums. Below is SNL Financial's list of top 10 writers of homeowners and commercial multiperil policies in those areas.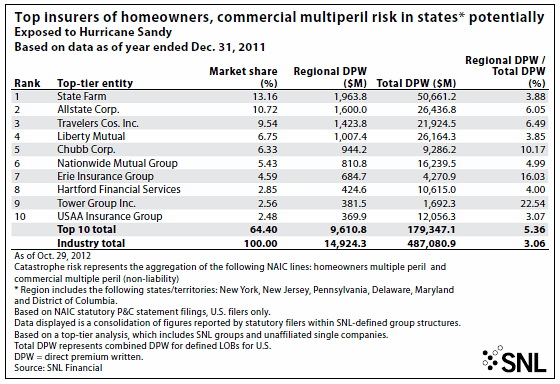 Topics Carriers Catastrophe Profit Loss Hurricane Flood Property Casualty
Was this article valuable?
Here are more articles you may enjoy.