Among coastal hurricane-prone states, North Carolina and Louisiana have weakened their building codes since 2012, while five states have strengthened theirs.
Just in time for the height of the hurricane season, the Insurance Institute for Business & Home Safety (IBHS) has released a midterm update to its Rating the States Report, which reviews the progress that the 18 most hurricane-prone coastal states along the Gulf of Mexico and the Atlantic Coast have made in strengthening their residential building codes.
Rating the States Midterm Update looks at building code activity in the same states featured in IBHS' original report released in January 2012, assessing them according to whether they have taken positive action, negative action, or no action to improve their codes during the ensuing 18 months. The original report also ranked the states on their building codes on a scale of 0- 100; this midterm update does not change any state rankings.
The midterm update found that most of the states with strong building code systems in place at the time of the original report have updated their codes to the most recent model building codes, and in some instances, passed legislation to further strengthen code protections.
By contrast, most of the states with very low scores in the original report have taken no action to improve their codes, thus falling even further behind best practices.
The assessment of states in the midterm update is based on their actions since the original 2012 Rating the States Report. Half (nine) of the states have acted to improve their codes, seven have taken no action, and two have acted to weaken their code systems. Below is a map and list from IBHS of the states based on their 2013 assessment (with their ranking from 0-100 in the original report).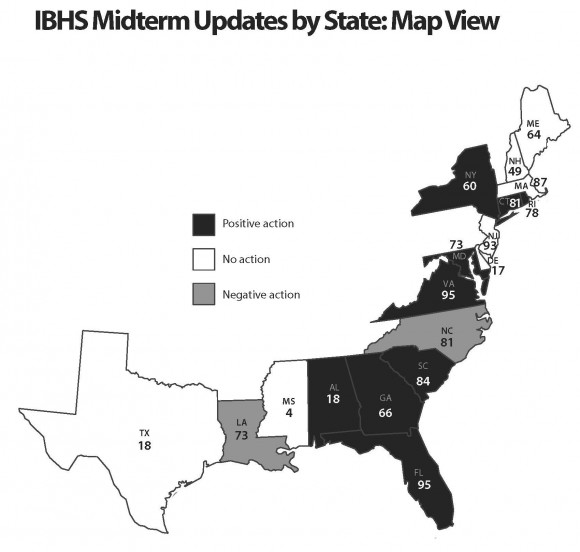 Positive Action:
Florida (95); Virginia (95); South Carolina (84); Connecticut (81); Rhode Island (78); Maryland (73); Georgia (66); New York (60); and Alabama (18).
No Action:
New Jersey (93); Massachusetts (87); Maine (64); New Hampshire (49); Texas (18); Delaware (17); and Mississippi (4).
Negative Action:
North Carolina (81) and Louisiana (73).
Building codes are intended to increase the safety and integrity of structures, thereby reducing deaths, injuries and property damage from hurricanes and a wide range of other hazards.
"As we approach the anniversaries of Hurricanes Andrew and Katrina, two of the most deadly and destructive hurricanes to make landfall in the U.S., we are reminded of the importance of strong, uniform state building codes and the role they play in protecting lives and homes," said Julie Rochman, IBHS president and CEO. "This update provides each state a useful analysis of their latest building code activities and what steps they can take to better protect their communities. It also gives interested citizens useful information so that they can understand the need for, and demand, better building codes."
IBHS said it plans to issue a new report in 2015, which will revise the rating for each state based on actions taken since the original 2012 report.
Was this article valuable?
Here are more articles you may enjoy.