August, traditionally a slower month for commercial property/casualty insurance renewals, was true to form as the composite rate for the P/C market held steady at plus 4 percent, matching the index for July, according to MarketScout's index.
By coverage classification, business owners (BOP) policy pricing increased from plus 4 percent to plus 5 percent. General liability also increased at plus 6 percent, up from plus 5 percent in July. Inland marine, commercial auto, directors and officers (D&O) and surety all moderated with rates down 1 percent from the prior month as reported by MarketScout.
Small accounts (up to $25,000 premium) moderated from plus 6 percent to plus 5 percent. Medium sized accounts ($25,001 to $250,000) increased 1 percent to plus 6 percent. Large and jumbo account rates held steady at plus 3 percent and plus 2 percent respectively.
The rates for manufacturing and energy risks were up 1 percent over July. Public entity and transportation accounts decreased by 1 percent. The other industry classifications were unchanged.
"With no wind, no quake, and no big cat exposures looming, insurers are happy to sit tight and hold the status quo," said MarketScout CEO Richard Kerr. "August is often a slow month with few significant renewals so it is not unusual to see a static market."
The National Alliance for Insurance Education and Research conducts pricing surveys used in MarketScout's analysis of market conditions.
MarketScout's summary of the August 2013 rates by coverage, industry class and account size is set forth below.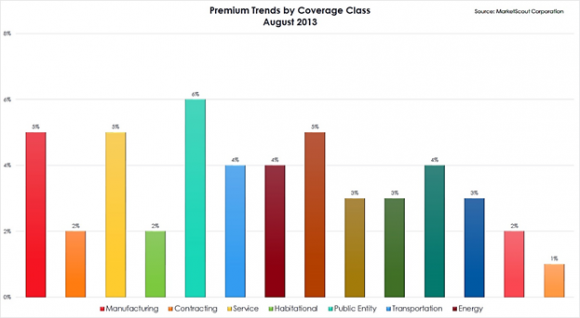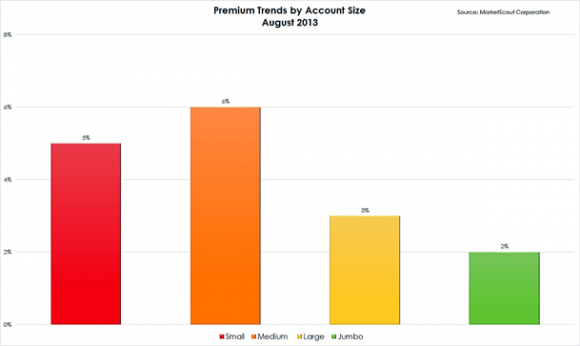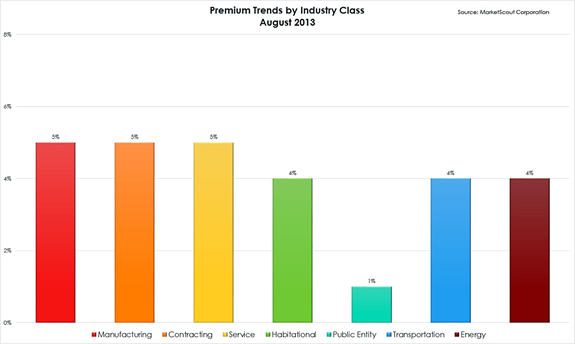 Was this article valuable?
Here are more articles you may enjoy.