The U.S. homeowners insurance industry benefited from lower catastrophe activity in 2013 and became profitable for the first time since 2007, according to an analysis by SNL Financial.
According to SNL, all of the top 20 homeowners insurers in its market share analysis reported better combined ratios in 2013, and almost all of them reported better loss ratios, compared to 2012. The incurred loss ratio for the industry shrank to 46.32 percent from 58.71 percent in 2012, SNL reported, while loss and loss adjustment expense totaled $36.22 billion in 2013, down from $42.05 billion in 2012.
Catastrophes in the U.S. in 2013 caused $12.9 billion in direct insured property losses before reinsurance recoveries and excluding loss adjustment expenses, compared to $35.0 billion in 2012, according to ISO's Property Claim Services. ISO estimated that private insurers' net loss and loss adjustment expenses from catastrophes dropped to $14.1 billion from $33.1 billion.
Homeowners direct written premiums grew 3.61 percent in 2013 for the industry as a whole, according to SNL's statutory insurance data, as various insurers requested and received rate increases. The industry's year-over-year premium growth was 5.6 percent when excluding results for AIU Insurance Co., an AIG subsidiary that transferred its Japan business to a Japanese-domiciled affiliate in 2013.
State Farm and Allstate Corp. held onto the top spots in SNL's homeowners insurance market share rankings, but Liberty Mutual climbed above Farmers into the No. 3 spot. Liberty Mutual saw year-over-year premium growth of 13.15 percent, the highest among the top 10 homeowners insurance writers. Next in order in market share are USAA, Travelers, Nationwide, American Family and Chubb. Florida's state-backed Citizens Property Insurance Corp. is ranked number 10 in market share in 2013 by SNL.
Source: SNL Financial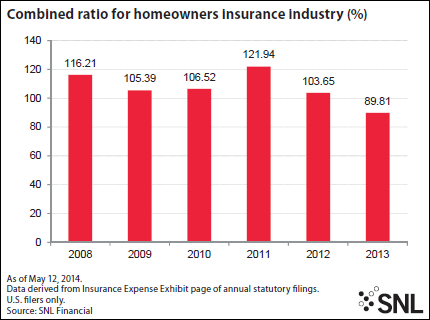 Topics Carriers Profit Loss Homeowners
Was this article valuable?
Here are more articles you may enjoy.