Independent insurance agents and brokers reported median organic growth of 5.8 percent for the second quarter of 2014, a weakening from 6.2 percent for the first quarter of 2014 and 6.9 percent for the second quarter of 2013, according to the Reagan Consulting Organic Growth and Profitability (OGP) survey.
"Although a 5.8 percent organic growth rate is still a healthy result, this makes the fourth straight quarter organic growth has remained flat or declined," said Kevin Stipe, president of Reagan Consulting, a management consulting and merger-and-acquisition advisory firm for the insurance distribution system.
"This decline of organic growth appears to be tied directly to the softening P&C marketplace," Stipe said, noting that the Council of Insurance Agents and Brokers (CIAB) second-quarter market survey showed P&C pricing went soft for the first time in three years.
Profit margins, as measured by median EBITDA (earnings before interest, taxes, depreciation and amortization), increased to 24.5 percent in Q2 2014 from 24.0 percent in Q2 2013, the Reagan Consulting report showed.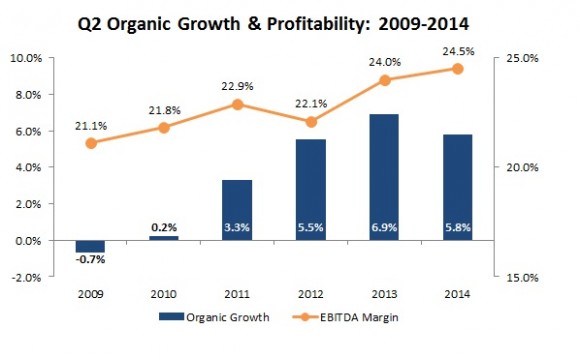 According to the consultants, EBITDA margins are inflated by cash-basis contingent income received during the first half of the year and tend to decline during the second half. Thus, while the second-quarter results are not a prediction of what year-end EBITDA margins might be, the comparison to prior-year second-quarter results is revealing.
Softening growth has not negatively affected profitability as yet due to continued growth in contingent income, according to Reagan Consulting. "P&C contingent growth, for both commercial and personal lines, has delivered double-digit growth for two years. This has allowed for the impressive improvements in agency profitability," Stipe said.
Other findings of the quarterly survey of 150 mid-size and large agencies and brokerage firms are:
Commercial property/casualty growth led the way for the third consecutive year, with a Q2 growth rate of 6.6 percent, compared with 8.2 percent in Q2 2013.
Benefits growth, at 4.6 percent, declined from the 5.5 percent growth rate of Q2 2013.
Personal lines growth was 2.2 percent compared with 3.5 percent in Q2 2013.
Reagan Consulting has conducted its quarterly survey of agency growth and profitability since 2008, using confidential submissions from approximately 150 mid-size and large agencies and brokerage firms. According to Reagan, nearly half of the industry's 100 largest firms participated in the survey. Median revenue of the firms completing the survey is approximately $15 million.
Was this article valuable?
Here are more articles you may enjoy.