The chairman of the Senate Banking Committee is pushing ahead with a bill to ease rules across sections of the financial industry after the first round of efforts to work with his Democratic counterpart failed.
Alabama Republican Richard Shelby is crafting a regulatory relief bill that aims to give small U.S. banks more breathing room to operate by exempting them from certain federal regulations put in place after the 2008 financial crisis.
The bill could also seek to ease regulations on regional banks such as Comerica Inc. and insurers such as Allstate Corp. and curb the authority of the Federal Reserve.
Some of the financial regulations targeted by Shelby were put in place as part of the 2010 Wall Street reform act known as Dodd-Frank.
Shelby wants one comprehensive bill to bring to the Senate floor, but the committee's top Democrat, Sherrod Brown of Ohio, is resisting, according to people familiar with the matter, preferring a more targeted approach.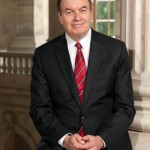 The Shelby camp held more than 30 meetings and calls on issues related to the bill with Brown's staff, according to a Republican aide who did not want to be identified.
"We have not met in two weeks because our previous meetings over the past month have been unproductive and we have begun the process of drafting," the Republican aide said an email to Reuters.
The split means Shelby can limit the bill's scope to get Brown's support or seek out more moderate Democrats. Shelby can also forego bipartisan support, and widen the bill's reach, knowing it will be well received by the financial industry but fail to get the kind of votes needed to push it forward.
Republicans control 54 votes in the Senate, short of the 60 needed to overcome procedural hurdles.
A mark-up is scheduled on May 14, meaning Shelby will have to send a draft of the bill to Brown soon, if they hold to the date.
Brown has said he wants a bill that would help small lenders but not trickle up to larger banks.
"Democrats are ready, willing, and able to provide regulatory relief for community banks and credit unions," Brown said in a statement. Shelby declined to comment.
Committee hearings since February showed other targets of the bill could include limiting the Federal Reserve's emergency lending abilities, changing the election process of the New York Fed President, and raising certain thresholds for bank regulations.
(Editing by Jeffrey Benkoe)
Was this article valuable?
Here are more articles you may enjoy.