Terry Dietrich celebrated her 62nd birthday by reigniting a teenage romance.
The 62-year-old accountant from Duluth, Georgia, was finally reunited last week with the 1972 Corvette Stingray that was stolen from her more than 40 years ago. She described the vehicle as her "first love," according to a statement Monday from Allstate Corp., the insurer that worked with government officials and a car dealer to trace the Corvette's past.
"That car, I hope, will never leave my sight again," she said in phone interview. "It needs a lot of love and attention. I want to restore that car, I want to bring it back to life."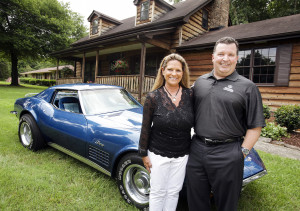 Gary Greene, a used-car dealer, said he bought the Chevrolet from a widow last year for $10,000 with the idea that he would have something to "tinker with and fiddle with." Reviewing documents tied to the car and its vehicle identification number raised red flags, said Greene, whose business is in Forest City, North Carolina.
"It wasn't a convertible, but the title had 'CN,' like a convertible should have," Greene recalled in a phone interview. "And then, I looked at the year model on the title, and it said 1969. Well, that body had not been modified at all, and that was a '72 model car."
He alerted the authorities. It turns out that Northbrook, Illinois-based Allstate was the rightful owner of the car after paying Dietrich's claim decades ago, the company said. While insurers often auction property that they recover in such cases, this time was different, and the classic sports car was turned over to Dietrich for an undisclosed sum, Justin Herndon, a spokesman for the insurer, said by telephone.
Historic Find
"In the history of Allstate, at least, which goes back 80- some-odd years, we had never come across something like this," Herndon said. "Almost all stolen cars are either found within the first five or six weeks, or not at all."
The car was driven to Dietrich last week by her old Allstate agent with a new title, Herndon said.
Dietrich bought the car when she was 19, using money from her first job toward a down payment, according to the statement. She said it was stolen while she was at work.
Copyright 2021 Bloomberg.
Was this article valuable?
Here are more articles you may enjoy.