It's all a masquerade. The business world has not embraced action on climate change as statements from some corporations seem to indicate.
So says a new watchdog group out of London.
Nonprofit InfluenceMap late last month launched a website, along with a report called Measuring Corporate Influence of Climate Change, offering up a deluge of information that appears to prove that more than half of the world's largest 100 companies are actually "obstructing climate change legislation."
The group picked the companies from the Forbes Global 2000 list out in 2014, and it began compiling information en route to creating a ranking system that defines what they consider to be progressive organizations supporting climate policy and obstructive ones that are definitely not helping to battle climate change.
Google Inc., Unilever Plc, Nestle Inc., Apple Inc. and Coca Cola Inc. are among those that graded above average. Koch Industries, Philips 66, Exxon Mobil, UnitedHealth Group, BP and AT&T earned failing grades.
The group omitted financial companies and state-owned enterprises from its evaluation because they make up roughly 40 percent of the world's upper echelon and the group would have dedicated much of their reporting on those entities, said Dylan Tanner, the group's executive director.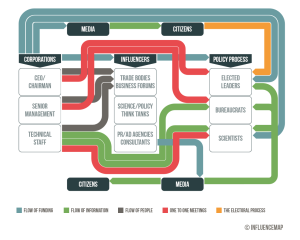 InfluenceMap is made up of people like Tanner, the CEO of a web company whose assets include ww.ekobai.com, an online marketplace for sustainable suppliers, climate activists, climate researchers and the Union of Concerned Scientists.
Tanner said the group gathered its information over the past few years primarily through a "clever aggregation from public sources."
The aggregate is a result of public hearings – for example when California called for public input after the state wanted to set new emission standards, and out came myriad opponents to detail publicly about how that would harm their organization – as well as information from environmental regulators, and filings with the Securities and Exchange Commission in which companies were required to disclose regulatory risk.
Trade associations were another fount of information for InfluenceMap, since associations typically make their positions and their membership publicly clear, Tanner said.
The group also applied the science of linguistics and the study of language patterns to decipher intent from communications between company executives and policymakers – as opposed to what they say on their website, in press releases or in advertisements, he added.
"We try and extricate the PR from what the actual messaging is to the targeted individuals," Tanner said.
The group keys in on CEO messages in speeches and in media interviews, such as when 21st Century Fox Executive Co-chairman Rupert Murdoch said during a 2014 interview with Sky News that "climate change should be approached with great skepticism," and that "climate change has been going on as long as the planet is here."
21st Century Fox is listed in the bottom five in rankings.
Tanner said his group lent great credence in their scoring to things executives say and do.
"CEOs have very strong sway with policymakers," he said.
The evidence behind the dubious scores given to many companies seems bountiful – some companies have more than 200 pieces of evidence attached to their profiles on the group's website, and Tanner said they've amassed more than 10,000 documents on the site.
The group gives Duke Energy an "F," one of only four companies to earn that grade. Oil companies dominated the bottom half of the list.
Reactions from companies with bad rankings have come in slowly.
Shortly after the report was issued and the website unveiled the Charlotte Business Journal got response from Charlotte, N.C.-based Duke, which called the report methodology flawed.
A company spokeswoman told the publication: "We take an active role to support environmental policies that will result in reasonable decreases in greenhouse gas emissions that balance the impact to customer rates and reliability."
While some companies were dinged for openly opposing climate change regulation, others appear to be guilty by association.
Delta Airlines earned a "D-," but not for its involvement with climate change policy and regulations, which InfluenceMap says appears to be limited.
"Delta's score is impacted by a number of associations that appear to be negatively engaging with climate change legislation, with particularly strong ties to the International Air Transport Association (IATA)," the group states.
IATA gets a score of "F" for its "negative involvement with strands of climate change regulations," the group stated.
InfluenceMap keeps separate lists for companies and "influencers" like IATA. American Legislative Council, American Petroleum Institute, Canadian Association of Petroleum Producers, Western States Petroleum Association and National Association of Manufacturers are the other influencers with "F" grades on the website.
ALEC's "F" grade isn't a surprise. The U.S. nonprofit, which is comprised of conservative state lawmakers and members of the private sector who draft model legislation and focus lobbying on a state-by-state basis, has been under attack by activists for years.
Sierra Club, a progressive investor group, and other activist organizations have been waging an aggressive years-long attrition campaign to force corporate participants, like State Farm, to leave ALEC.
"They score lower than just about any organization we assess," Tanner said.
ALEC's European cousin is Business Europe. The Brussels-based group appears "to have active and obstructive engagement with numerous strands of climate change policy and regulations," the group states.
The group is comprised of more than 40 central industrial and employers' federations from some three dozen countries working toward a state goal of achieving growth and competitiveness in Europe.
As evidence backing its negative grade for Business Europe, which is among the bottom 12 associations on the list and has a grade of E – a grade InfluenceMap places between "D" and "F" – the group offers evidence suggesting Business Europe's on EU climate policy is that it has increased energy costs and negatively affected growth.
Business Europe released materials in 2013 supporting the development of alternative energies, and calling for a "cost-competitive and coordinated energy and climate policy for 2030."
Yet in that same document, "A Competitive EU Energy and Climate Policy," the group also calls for phasing out support for the market deployment of energy produced from renewable sources.
"Renewable and low carbon technologies offer interesting market perspectives for many European companies," the group states. "However the energy prices impact of current support schemes is not viable for the EU's economy. Support for the market deployment of renewable should be progressively phased out to allow the market to determine energy choices."
More than one-third of the companies on the list earned average or slightly above average grades. That may sound just fine, but the underlying theme in the report is that many companies appear to support action on climate change only in the public forum, a duplicity that's reflected in the grading.
Microsoft Corp. earned a "C-" despite having stated support for the UN Climate Treaty, and support for the transition of the energy mix. Microsoft has made it known on social media that the company also supports U.S. government internal renewable energy targets, InflueneMap acknowledges.
The Redmond, Wash.-based software giant was downgraded because a senior executive is a board member of the National Association of Manufacturers and the company is a member of Business Europe, "both of which appear to be obstructing climate policy," the group states.
Attached to each company's listing on the site are PDF documents the group uses as evidence behind its scoring.
The scoring is a complex web of factors: corporate influence; an organization's stance on climate science; its transparency on legislation; and its positions on emissions trading and renewable energies.
InfluenceMap compares these categories across an organization's statements that appear on its website, postings made on social media and in CDP responses – CDP is the global not-for-profit through which companies and governments report, manage and share environmental information. Legislative consultations, media reports, CEO messaging, financial disclosures, and information found in the European Commission's Union Register are other sources.
How organizations communicate and deal with the public and government decision makers is a major consideration in the grading.
"This is a circumstantial picture on these companies' attitudes toward climate legislation," Tanner explained. "It may be a better-than-subjective view of how these companies are behaving."
What's the endgame with InfluenceMap?
Tanner noted that the group is a nonprofit, so there is no financial goal.
"We saw a gap in the information in the assessment of companies on this issue," he said. "Our goal is to bring the issue of climate lobbying out into the open and hopefully force a process of greater disclosure and hopefully analysis on this."
Past columns:
Was this article valuable?
Here are more articles you may enjoy.