Telematics devices offered by auto insurers appear to working to change the behavior of drivers.
More than half (56 percent) of the 1,135 drivers participating in an Insurance Research Council (IRC) public opinion survey said they have made changes in how they drive since installing a telematics device provided by their insurance company in their primary vehicle.
According to the insurance industry-supported IRC, 36 percent of respondents said they have made small changes in how they drive and 18 percent said they have made significant changes. Thirty-eight percent said they have made no changes in their driving practices since having a device installed.
Drivers aged 65 and above are significantly less likely than other drivers to report making changes in how they drive, the survey found.
A substantial majority (82 percent) of those with telematics devices reported receiving information from their insurance company about their driving behavior after having a device installed. Eighty-one percent of those receiving information said they reviewed the information and 88 percent of those reviewing the information said they found the information to be helpful.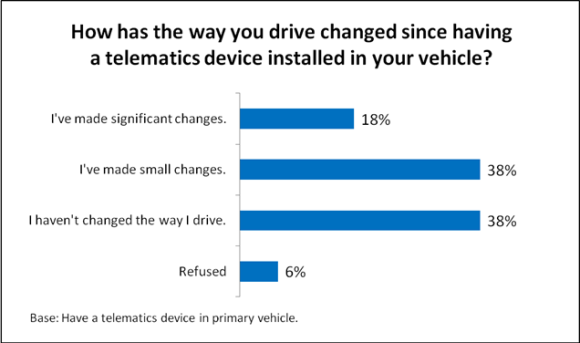 "These findings suggest that having telematics devices installed in vehicles can play a beneficial role in promoting safe driving and reducing the frequency of auto accidents and their associated costs," said Elizabeth Sprinkel, senior vice president of the IRC. "While we can't say with certainty that the changes drivers make are always for the better, or whether beneficial changes that are made become permanent, we can confidently say that the introduction and use of telematics technology is a move in the right direction."
Telematics devices plugged into policyholders' cars can measure miles driven; time of day; where the vehicle is driven; rapid acceleration; hard breaking; hard cornering; air bag deployment and other behaviors.
Insurers offer the telematics devices as part of their usage-based insurance (UBI) policies that reward safe drivers with lower premiums. Commercial insurers also offer UBI programs to fleet managers.
Age Gap
Research released in September by Towers Watson suggests that more drivers aged 18 to 34, or millennials, are interested in usage-based auto insurance policies than are drivers in all other age groups and are more willing than others to change their driving behavior in response to UBI information. They cited obeying the speed limit and maintaining a safe following distance as behaviors they would most likely change.
The survey by Towers Watson, which consults on and sells UBI services to insurers, attracted 1,061 respondents.
Overall usage of UBI appears to be growing although estimates of its penetration vary.
Whereas in February 2013, just 4.5 percent of consumers either had a UBI policy in force, that figure had doubled to 8.5 percent as of July 2014, another survey by Towers Watson revealed. Also, nearly one-quarter (23 percent) of insurers in 2014 had launched or said they planned to launch UBI programs.
The UBI market share is expected to soar to 26 percent in the U.S. and 38 percent in the U.K. by 2020, according to a November study from Roland Berger Strategy Consultants.
The National Association of Insurance Commissioner (NAIC) cites experts who expect that 20 percent of all motor vehicle insurance in the U.S. will incorporate UBI in some form by 2018.
Most of the top 10 U.S. auto insurers have UBI programs, with giant GEICO being one of the holdouts.
Allstate has said that seven of every 10 of its telematics Drivewise customers are saving money through the program and no one receives an increase. Of the drivers earning a discount, the average savings is about 14 percent per vehicle. Allstate has also reported that roughly, a third of all new customers enroll in its Drivewise program in states where it is available.
Telematics pioneer Progressive Insurance and CEO Glenn Renwick sees a future for telematics as cars become more automated.
Progressive and Allstate have also said that the data collected could itself become profitable for insurers.
The IRC report, Auto Insurance Telematics: Consumer Attitudes and Opinions, is based on an online survey of 1,135 respondents by GfK Public Affairs & Corporate Communications on behalf of the IRC. The survey was conducted during June 2015.
Other issues explored in the IRC survey include driver awareness of telematics, willingness to participate in a telematics program and reasons for not having a device installed, concerns about how the information collected by a telematics device is used, and factors that encourage participation in telematics programs.
Source: IRC
Related:
Topics Carriers USA Auto Personal Auto
Was this article valuable?
Here are more articles you may enjoy.