The Atlantic, eastern and central Pacific hurricane seasons officially ended yesterday, and as NOAA predicted, the Atlantic season stayed below normal with 11 named storms, while the eastern and central Pacific were above normal with both regions shattering all-time records.
Overall, the Atlantic hurricane season produced 11 named storms, including four hurricanes (Danny, Fred, Joaquin and Kate), two of which, Danny and Joaquin, became major hurricanes. Although no hurricanes made landfall in the United States this year, two tropical storms – Ana and Bill – struck the northeastern coast of South Carolina and Texas, respectively. Ana caused minor wind damage, beach erosion and one direct death in North Carolina, and Bill produced heavy rain and flooding while it moved across eastern Texas and Oklahoma. Hurricane Joaquin is the first Category 4 hurricane since 1866 to impact the Bahamas during the month of October.
Scientists at the National Oceanographic and Atmospheric Administration (NOAA) credit El Niño as the leading climate factor influencing both the Atlantic and Pacific seasons this year.
"El Niño produces a see-saw effect, suppressing the Atlantic season while strengthening the eastern and central Pacific hurricane seasons," said Gerry Bell, Ph.D., lead seasonal hurricane forecaster at NOAA's Climate Prediction Center. "El Niño intensified into a strong event during the summer and significantly impacted all three hurricanes seasons during their peak months."
Bell said El Niño suppressed the Atlantic season by producing strong vertical wind shear combined with increased atmospheric stability, stronger sinking motion and drier air across the tropical Atlantic, all of which make it difficult for tropical storms and hurricanes to form and strengthen. However, El Niño fueled the eastern and central Pacific seasons this year with the weakest vertical wind shear on record.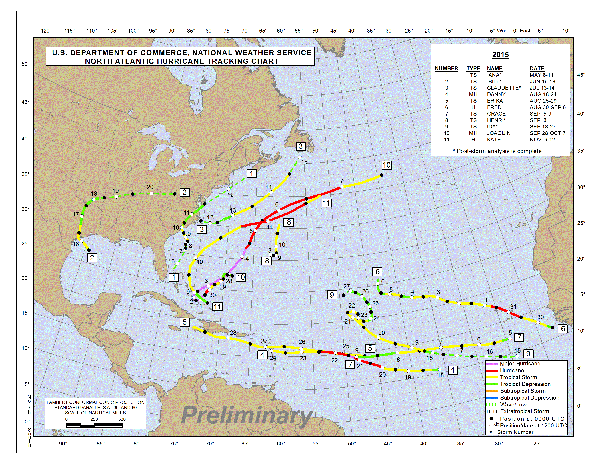 Active Eastern and Central Pacific Seasons
The eastern Pacific saw 18 named storms, including 13 hurricanes, nine of which became major. This is the first year since reliable record keeping began in 1971 that the eastern Pacific saw nine major hurricanes. Hurricane Patricia was the strongest hurricane on record in the Western Hemisphere in terms of maximum wind speed at 200 miles per hour and lowest air pressure at 879 millibars. Hurricane Sandra, which formed at the tail end of the season, was the strongest hurricane in the eastern Pacific so late in the year, with a maximum sustained wind speed of 145 miles per hour.
The central Pacific shattered its records, too, with 14 named storms, including eight hurricanes, five of which became major hurricanes, the most active season since reliable record-keeping began in 1971. Three major hurricanes (Ignacio, Kilo and Jimena) churned at the same time east of the International Dateline, the first time that was ever recorded.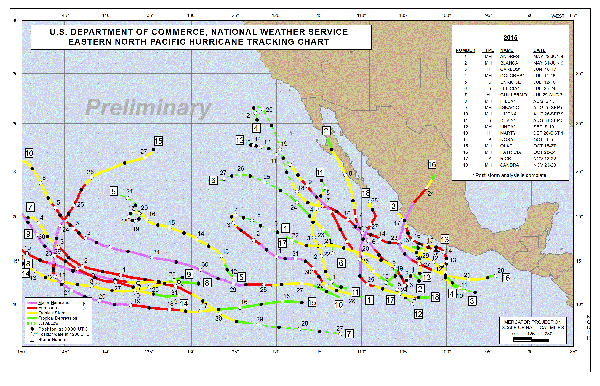 Source: NOAA
Related:
Was this article valuable?
Here are more articles you may enjoy.