When agency consultants at Reagan Consulting hosted more than 150 industry leaders at a workshop on agent/broker mergers and acquisitions (M&A) recently, the mood was upbeat, since brokers are enjoying their best combination of growth and profitability in nearly a decade.
There was even more reason for the upbeat mood. As Bobby Reagan, CEO, told the attendees, values being paid for insurance agencies and brokerage firms have "never been higher."
Kevin Donoghue, managing director, Mystic Capital Advisors Group, calls 2015 a "rapid year" for deals, citing SNL Financial data that there were 309 deals in the insurance distribution sector in 2015, compared with 254 in 2014 and 161 in 2013. "Over the past three years, multiples have steadily risen and with it, the number of deals," Donoghue said.
There was plenty of activity in the agency and brokerage market in 2015, with, as usual, a handful of brokers very active nationally and internationally. The super-buyers included Hub International (37), AssuredPartners (31), Arthur J. Gallagher (26), Confie Seguros (15) and Brown & Brown (13) among others. NFP Corp., Integro, Marsh and McLennan Agency, Alliant and The Hilb Group also had a busy year.
There were a few active regional acquirers including Cross Insurance (New England), Smith Brothers (Connecticut), World Insurance Associates (New Jersey), Orchid Underwriters (East Coast) and Protector Holdings (California).
Relatively new players with apparent ambitions to do more appeared on the M&A scene. They included Prime Risk Partners (Atlanta), Risk Strategies (Boston), Chestnut Hill Insurance Group (Rhode Island); and The Andrew Agency (Richmond).
Kevin Stipe, president of Reagan Consulting, noted that demand has been strong and private equity buyers have been extremely active — involved in more than four out of 10 transactions — and they are "most responsible for pushing acquisition multiples to record levels."
Stipe sees the trend continuing in 2016. "With widespread buyer demand, there is nothing today to suggest that valuations will be going down any time soon," he said.
Donoghue isn't so sure multiples will keep rising. "I expect 2016 to be a busy year, but believe we are at peak pricing right now. Rising interest rates and the turmoil going on in the energy sector will likely have a drag effect on valuations," he told Insurance Journal.
Agency/Brokerage M&A News Highlights
Space does not permit listing all M&As. For access to a database with all property/casualty insurnace mergers and acquisitions reported by Insurance Journal, visit here. Below are some agency/brokerage M&A news highlights from 2015 as reported by Insurance Journal:
In December, Towers Watson & Co. and insurance broker Willis Group Holdings closed on their $18 billion merger of equals. The combined agency is named Willis Towers Watson and is domiciled in Ireland. Willis agreed in June to merge with Towers Watson to better compete with Marsh and Aon, which also have consulting operations. Towers Watson had to overcome opposition from proxy advisors to seal the deal.
QBE Insurance Group of Australia is selling its U.S. agency businesses to California-based Alliant Services for about $300 million and exiting the distribution business. The agencies being sold include Community Association Underwriters in Pennsylvania, Deep South Insurance Services of Texas, and SIU Managers in California.
Willis Group Holdings agreed to buy the 70 percent of Gras Savoye, France's largest broker, that it didn't already own for $590 million. Willis Group Holdings also agreed to take an 85 percent stake in London's Miller Insurance Services and acquired Elite Risk Services Ltd. of Taiwan.
Texas-based All Web Leads, a Genstar Capital portfolio company, agreed to acquire insuranceQuotes.com for $165 million.
Marsh & McLennan Agency acquired Vézina, a Montreal broker, marking MMA's entry into the Canadian market.
Ryan Specialty Group of Chicago agreed to acquire Hunter George & Partners, a London managing general agent.
U.S. Agency/Brokerage M&As by Region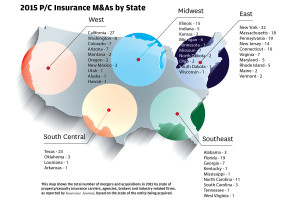 East
American International Group agreed to acquire a controlling stake in NSM Insurance Group, a Pennsylvania program administrator.
Wholesale broker AmWINS Group acquired The III Group, a wholesale broker based in Pennsylvania that includes: Insurance Innovators Inc., III of Maryland Inc., Insurance Innovators of New Jersey Inc., Innovators of New York Inc. and Insurance Innovators of New England Inc.
Alliant Insurance Services of California acquired Preferred Concepts in New York and its three divisions: Preferred Underwriting, a program underwriter for the real estate industry; Preferred Brokerage, a wholesale brokerage; and ezumbrella.com, an online platform for umbrella liability.
Arthur J. Gallagher & Co. agreed to acquire William Gallagher Associates Insurance Brokers Inc. in Boston, which has annual revenues of $50 million. Arthur J. Gallagher & Co. also acquired Monument, a program administrator in Pennsylvania; and two New Jersey wholesale brokers: Excel Insurance Services Inc. and McCloskey Surplus & Excess Inc. (d/b/a Metcom Excess).
Cross Insurance of Maine has purchased Corcoran & Havlin Insurance Group in Massachusetts; Boston agency Knapp Schenck & Co. and Schonning Insurance in Rhode Island.
Orchid Underwriters Agency, a Florida managing general agent, acquired Coastal Agents Alliance in New Jersey. Orchid Underwriters also agreed to acquire Platinum Partners, a Massachusetts wholesaler focused on high net worth personal lines.
Prime Risk Partners of Atlanta acquired Cook Maran & Associates in Southampton, New York. This is Prime Risk Partners' first acquisition since its launch in May 2014 by private equity firm Thomas H. Lee Partners and two former Beecher Carlson executives.
NFP Insurance of New York City acquired Insurance Management Associates in New Jersey; Horenberg Insurance Services in Maryland; Hackett Valine & MacDonald in Vermont; and BWD Group in New York.
West
Protector Holdings, a joint venture of Edgewood Partners Insurance Center and Dowling Capital Partners, has acquired California's Oasis South Insurance Services and Peartree Insurance Services, both specialists in the Hispanic market.
Hub International Ltd. has acquired Arrow Insurance Service in Simi Valley; Brown Agency Inc. in Alaska; Laubacher Insurance Agency in Ventura; Las Cruces, New Mexico's 'N Compass Group; Lovsted-Worthington Insurance in Seattle; Alamogoro, New Mexico-based Shofner, Lynch & Shulse; Denver-based Colorado Nonprofit Insurance Agency; and Calif.-based Johnson & Wood Insurance Services.
Risk Strategies Co. of Boston has acquired San Diego's Dubraski & Associates Insurance Services and MacCorkle Insurance Service in Burlingame, Calif.
Midwest
Arthur J. Gallagher & Co. has acquired NationAir Aviation Insurance in Chicago; Brown Hobbs & McMurray Insurance in Urbana, Illinois; The Hawk Agency in Peoria; Burkwald & Associates of Pewaukee, Wisconsin; James R. Weir Insurance Agency in Mankato, Minnesota; and National Administration Co. in Chesterfield, Missouri.
Hudson Insurance Co. of New York has acquired Euclid Managers of Kansas City.
Marsh & McLennan Agency has acquired Dawson Insurance Agency in Fargo, North Dakota and St. Louis-based J.W. Terrill, MMA's first in Missouri. MMA also acquired Cline Wood Agency, a Kansas City specialty agency.
Risk Strategies Co. of Boston has acquired professional liability broker M.G. Welbel & Associates in Illinois; Northwest Comprehensive in Chicago; and Re-Solutions Intermediaries, a Minneapolis reinsurance specialist.
Southeast
Hub International Ltd. has acquired Smith Watson Parker Insurance and Cooper, Simms, Nelson & Mosley, both in Florida; Triangle Insurance Services and IAS Associates, both in North Carolina; and RFO Enterprises in Georgia.
The Hilb Group has acquired West Coast Insurance in Tampa; JWB Insurance Group in Wilmington, North Carolina; and the Gentry Insurance Agency in Apopka, Florida.
Confie Seguros acquired Your Insurance Spot Inc. in Kissimmee, Florida; Wise Insurance Agency of Columbia, South Carolina; and TS Insurance Group in Alabama.
Patriot National has acquired TriGen Insurance Solutions, a specialty insurance brokerage in Boca Raton, for $9.74 million.
Maryland-based national wholesaler All Risks Ltd. acquired Specialty Risk Underwriters, a national program administrator in St. Petersburg.
Brown & Brown sold its reinsurance brokerage subsidiary Axiom Re to Beach Re Ltd. as part of a business strategy to exit the reinsurance brokerage business.
South Central
Marsh & McLennan Agency acquired Dallas-based MHBT, an agency with annual revenue of $76 million and 350 employees in five offices throughout Texas.
Hub International Ltd. acquired Alexander Insurance Agency in San Antonio, and The Holmes Organisation, an Oklahoma multi-line brokerage.
J.H. Blades & Co., an energy-focused managing general agent in Houston, purchased wholesale broker Burke-Daniels Co., which also specializes in the oil and gas energy sector.
The Hilb Group has acquired Texas-based Walker Myers Insurance & Risk Management.
McKinney, Texas-based GDP Advisors has acquired The Insurance Connection of Texas.
Was this article valuable?
Here are more articles you may enjoy.