Weather incidents account for more than half of all homeowners insurance claims, with wind, pipes freezing and bursting, roof and flashing leaks and ice dams among the major causes of home damage during weather events.
Fire-related claims are the most expensive, however.
That's according to The Travelers Companies Inc., which released information identifying the most common and costliest homeowners claims based on a review of its U.S. homeowners insurance claims made from 2009 to 2015.
The five most common causes of home claims are:
Exterior wind damage – 25 percent of all losses.
Non-weather-related water damage (e.g., plumbing or appliance issues) – 19 percent.
Hail – 15 percent.
Weather-related water damage (e.g., rain, melting ice, snow) – 11 percent.
Theft – 6 percent.
"Any number of things can go wrong with a home, and it's impossible to predict them all," said Pat Gee, senior vice president, Personal Insurance Claim, Travelers. "But if consumers focus on these particularly common risks and take preventive steps and perform routine maintenance, it may help lessen the likelihood of damage."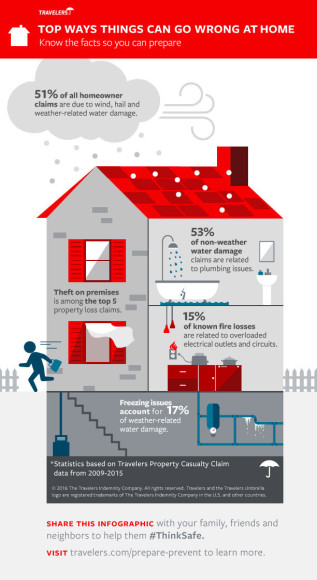 Costliest Claim Causes
While weather-related claims are most common, fire causes the most expensive claims, accounting for nearly one quarter of the total claim costs. Fires are often caused by appliance and machinery misuse or failure, electrical problems, including wiring or outlet issues, and cooking. Hail, wind, and plumbing or appliance leaks followed fire as the most expensive claims.
Water Damage
There are typically two main causes of water damage — weather events, such as rain or snow melt, and other issues, such as pipes bursting or leaking. By comparison, more water damage is caused by events such as a pipe bursting, or plumbing or appliance issues, than from the weather.
Regional Differences
The leading cause of claims differs depending on where customers lived:
In the Northeast, wind is the most common cause of claims. The weight of ice and snow on the roofs of homes was also a common claim throughout the region. Fire is the costliest source of claims for homeowners in this area.
In the South, wind is the most common cause of home claims and hail is the most expensive.
In the Midwest and West, hail is both the most common reason for a homeowners insurance claim and caused the costliest damage. Midwestern homeowners also saw repeated problems caused by sewer or sump pump backups
Source: Travelers
Topics Claims Homeowners
Was this article valuable?
Here are more articles you may enjoy.