A New Jersey resident with a pocket monster in his backyard may be the first to sue Niantic Inc. and Nintendo Co. for unleashing Pokemon Go across the U.S., claiming that players are coming to his home uninvited in their race to "catch 'em all."
The West Orange man alleges the companies have created a nuisance with their GPS-based game and seeks class-action status on behalf of all Americans whose properties have been trespassed upon by players in search of Pokemon Go monsters.
The complaint includes references to Pokemon hunters parading into an Alabama cemetery and the U.S. Holocaust Memorial Museum in Washington and cites a Massachusetts homeowner visited more than a dozen times within hours of the game's release last month.
Pokemon Go was developed by San Francisco-based Niantic, with some input from Nintendo. While excitement over the game's popularity at one point more the doubled Nintendo's market value, shares have since corrected as the company pared back expectations, saying financial impact will be "limited."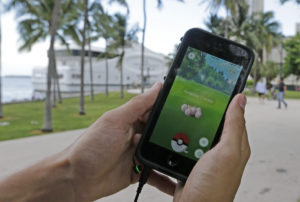 The game's user map places Pokemon gyms and Pokestops on and adjacent to private properties "without the consent of the properties' owners," according to the complaint filed Friday by Jeffrey Marder in federal court in Oakland, California. "At least five individuals knocked on plaintiff's door, informed plaintiff that there was a Pokemon in his backyard, and asked for access to plaintiff's backyard in order to 'catch' the Pokemon."
The case is Marder v. Niantic Inc., 16-cv-04300, U.S. District Court, Northern District of California (Oakland).
Related:
Copyright 2021 Bloomberg.
Topics Lawsuits
Was this article valuable?
Here are more articles you may enjoy.