The "Pokemon Go" craze across the U.S. has people wandering into yards, driveways, cemeteries and even an off-limits police parking lot in search of cartoon monsters, prompting warnings that trespassers could get arrested or worse, especially if they cross paths with an armed property owner.
Since the release of the smartphone game last week, police have gotten a flurry of calls from residents about possible burglars or other strangers prowling the neighborhood.
By midweek, few tickets have been issued, and there had been no reports of arrests or assaults on trespassers playing the game, whose object is use the phone's GPS technology to find and capture animated creatures in real-world places.
"Be careful where you chase these Pokemon — or whatever it is you chase — because we have seen issues in other places with people going onto private property where a property owner didn't want them on there," said Assistant Police Chief Jim McLean in Pflugerville, Texas.
[Editor's Note: See 10 tales of Pokemon risk, warnings, rewards and more at end of this article. It's not all accidents and robberies. Some Pokemon players have performed public service while playing, such as catching a murder suspect and finding a missing body. Players locked into a graveyard were embarrassed but no harm was done.]
Some players have expressed worries on social media that the game could result in a fearful property owner pulling a gun — a scenario that could fall into a legal gray area in the nearly two dozen states with "stand your ground" laws that allow people wide latitude to use deadly force when they believe they are in danger.
McLean's department posted a Facebook warning Monday after officers spotted a man playing the game in a section of a police parking lot where the public isn't allowed. The player had to pass keep-out signs and go over a fence or under a gate to reach the area.
"I'm not sure how he got back there, but it was clear what he was doing," McLean said. "He was playing a Pokemon game with his phone up in the air."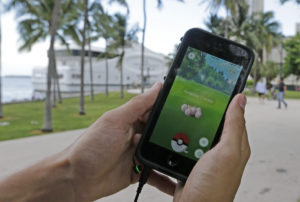 $200 Ticket
In Utah, Ethan Goodwin, 17, of Tremonton, was slapped with a trespassing ticket that he worries could cost him up to $200 after he and a couple of friends went on an early morning Pokemon chase at an abandoned grain silo. He managed to catch three creatures.
"I wouldn't say it was worth it, but I would say I'm glad I have the Pokemon I have now," he joked. He added: "It's a dumb game, really, really stupid."
Fine Print
Every time the app is opened, a warning from game maker Niantic pops up, telling players to be aware of their surroundings. Players must also agree to fine print saying they cannot enter private property without permission.
There's also a disclaimer that says Niantic is not liable for any property damage, injuries or deaths that result while playing.
But those warnings don't seem to be getting through.
In Phoenix, police have started posting humorous and colorful warnings on social media, saying chasing the orange dragon Charizard is not a valid reason to set foot on someone else's property.
Nor is chasing the cat-like Mewtwo, according to Boise, Idaho, police. They posted a Facebook message saying officers responded to several calls about players trespassing on private property and illegally trekking across parks after dark.
Playing in Traffic
Gamers are also being warned to watch for traffic while playing and not to drive while on the app.
One woman told WPXI-TV in western Pennsylvania that her 15-year-old daughter was hit by a car while playing the game and crossing a busy highway. The girl was hospitalized with an injured collarbone and foot, as well as cuts and bruises, said her mother, Tracy Nolan.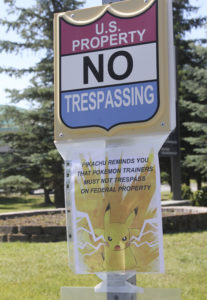 Capt. Michael Fowler with the Hanahan, South Carolina, police said his department in the city of about 20,000 has gotten a few suspicious-activity reports related to "Pokemon Go," including multiple calls from a woman who feared for her safety as she watched cars go in and out of a church parking lot across from her house.
"I didn't know what was going on. The last time I heard about Pokemon was back in the '90s," Lynn Menges, 59, said.
Lt. Lex Bell, of the Unified Police Department in Utah, said officers outside Salt Lake City have responded to similar calls. Most come after dark, with residents saying they believe motorists driving slowly through their neighborhood may be casing their homes. In one instance, a woman mistook a few glowing cellphones for flashlights as players hunted characters near her daughter's car.
Several cemeteries, including Arlington National outside Washington, have expressed worries about players on their grounds.
At Mobile Memorial Gardens in Alabama, president Timothy Claiborne said he has seen visitors walking or driving around with phones in their hands, playing the game. He asked people in about three dozen vehicles to leave over the past couple of days, earning him the title "chief of the Pokemon patrol" from the staff.
"I just think we need to continue to have respect not only for the dead but for those who are grieving the dead," he said.
10 Pokemon Go Tales
It's not all robberies and accidents. Some Pokemon players have performed public service while playing, such as catching a suspected murderer and finding a missing body. Players locked into a graveyard at night were embarrassed but no harm was done. From this week's files of The Associated Press come these tales of Pokemon Go risks, warnings and rewards:
Police: Man Robbed of Cellphone While Playing 'Pokemon Go'
LAKE RONKONKOMA, N.Y. (AP) — Police on Long Island are investigating an armed robbery in which they say a cellphone was stolen from a man playing the popular "Pokemon Go" game on his smartphone. Suffolk County police say the 19-year-old man was walking in Lake Ronkonkoma while playing the game Wednesday evening when a car with at least three people pulled up alongside him. Police say one of the passengers told the victim to give him his cellphone. When the victim hesitated, another passenger showed him a gun and demanded the phone. The victim then handed over the phone and took off. No arrests have been made, and the investigation is ongoing.
Police: Someone Threw Fireworks at 'Pokemon Go' Players
BOCA RATON, Fla. (AP) — Authorities say someone threw fireworks at a man and his friends while they were playing "Pokemon Go." Boca Raton police wrote on their official Facebook page that someone inside an SUV tossed fireworks at the group of Pokemon players outside a U.S. Post Office earlier this week and then sped off. No one was injured. It is unclear whether the group was targeted because they were playing the popular smartphone game, which encourages users to walk to local landmarks while searching for virtual Pokemon. The Sun reported police determined there wasn't enough evidence to conclude that a crime had been committed. They instead called it a suspicious incident. Police Chief Dan Alexander on Sunday had warned the public about being aware of their surroundings while playing the game.
Two 'Pokemon Go' Players Help Catch Attempted-Murder Suspect
FULLERTON, Calif. (AP) — Two "Pokemon Go" players out hunting virtual monsters in Orange County ended up helping catch a man wanted in Northern California on suspicion of attempted murder. The Orange County Register reported 24-year-old Seth Ortega and 27-year-old Javier Soch were playing the popular smartphone game in a Fullerton park Tuesday when they noticed a man bothering a woman with three children. The men, college students and Marine Corps veterans, warned the man and kept an eye on him. When they saw him follow another woman with children, and then touch one of the kids, the roommates grabbed the man. Police arrested the man, 39-year-old Jacob Kells, for child annoyance and found that he had an outstanding warrant for attempted murder in Sonoma County. Officials have not released the suspect's name.
Trio Gets Locked in Cemetery While Playing 'Pokemon Go'
DUNMORE, Pa. (AP) — Three "Pokemon Go" players got locked inside a cemetery in Pennsylvania while hunting virtual monsters and needed police to let them out. Police in Dunmore told The Times-Tribune of Scranton the trio didn't realize the cemetery closed at dusk. They called police just after 9:30 p.m. Tuesday when they discovered the cemetery gates were locked. Dunmore Police Chief Sal Marchese said the three won't be charged. At least one was an adult; no other details about the gamers were released.
Woman: Daughter Hit by Car While Playing 'Pokemon Go'
TARENTUM, Pa. (AP) — A woman in western Pennsylvania says her 15-year-old daughter was hit by a car while playing the popular new "Pokemon Go" game on her smartphone. Tracy Nolan told WPXI-TV the game took her daughter across a busy highway in Tarentum during the evening rush. She said the girl had just finished playing the game when she was hit Tuesday around 5 p.m. She remains in the hospital Wednesday with an injured collarbone and foot, as well as cuts and bruises. The car's driver stopped and held her daughter's hand until emergency responders arrived.
Pokemon Players Distracted K-9 on Search, Lincoln Police Say
LINCOLN, Neb. (AP) — Officers say some people playing "Pokemon Go" accidentally interfered with a search for a mysterious man who'd fled from a Lincoln convenience store where a clerk was killed last week. The incident occurred around 2 a.m. Wednesday. Police say a store security guard noticed the man, who was dressed in camouflage clothing, wearing a hood, gloves, sunglasses and a bandanna over his face. The guard asked the man to remove his bandanna, but he ran off instead. Sgt. Randy Clark said officers reported later than a police dog taken to the scene to track the man got distracted by the scents of some people engrossed in the popular new smartphone game nearby. Police say they don't think the man sought is connected to the slaying of store employee Robert Hanna.
Police: Man Robbed in Auburn While Playing 'Pokemon Go'
AUBURN, Ala. (AP) — Four suspects have been arrested after a man told Auburn police that he was robbed at gunpoint while he was playing the popular "Pokemon Go" smartphone game. Auburn police said in a news release that the man was playing the game outside of a vacant building early Wednesday when he was approached by four men who attacked him and robbed him before fleeing in a vehicle. Authorities found the suspects in the area and recovered the victim's stolen property. The suspects were charged with first-degree robbery and third-degree assault. Police urged players of the game to be aware of their surroundings in light of other armed robberies of people playing the game, which encourages people to wander in search of virtual Pokemon.
Three Pokemon Go Players Robbed at Gunpoint in Baltimore County
PARKVILLE, Md. (AP) — Authorities say three people were robbed at gunpoint in Baltimore County last week while playing Pokemon Go. Baltimore County police said in a statement Tuesday that the victims were playing the popular smartphone game in Pikeville early Thursday when they were approached by two suspects, one of whom was armed. Police say the robbers took the victims' cellphones and money before fleeing. No was injured. The game encourages players to walk to local landmarks while looking at their phones for virtual Pokemon. The robbery occurred near an entrance to Belmont Park. County police spokesman Cpl. John Wachter told the Baltimore that investigators are still trying to determine whether the people were targeted because they were playing Pokemon Go. Authorities urged players to pay attention to their surroundings while playing the game.
Body Found in Wind River by Pokemon Go Player Identified
RIVERTON, Wyo. (AP) — Authorities have identified the man found dead in a central Wyoming river by a woman playing the popular smartphone game Pokemon Go. The Riverton Ranger reported that 28-year-old Jeffrey Day's body was found floating in the Wind River near the city of Riverton on Friday. Authorities are awaiting the results of an autopsy to determine the cause of the Arapahoe man's death, but say it appears to have been accidental and could be a drowning. Shayla Wiggens says she had been playing the new game, which sends players to real-world locations to capture virtual creatures, when she spotted the body in the water near a bridge. The incident comes as police in Missouri say four teens used Pokemon Go to lure victims to a location and rob them.
Copyright 2023 Associated Press. All rights reserved. This material may not be published, broadcast, rewritten or redistributed.
Topics Auto Law Enforcement Property Pennsylvania
Was this article valuable?
Here are more articles you may enjoy.