The state pressed on for more than a decade with civil fraud claims against a 91-year-old former chief executive of insurance company American International Group Inc. as a warning to other executives that wrongdoing won't go unpunished, a state attorney told a judge on Tuesday during a trial's opening statements.
Assistant Attorney General David Ellenhorn said former AIG boss Maurice R. Greenberg was "not your typical 91-year-old" as he explained the state's persistence in pursuing the case against him and the company's former chief financial officer.
Ellenhorn said he wanted to send a message to other top executives who may be much younger than Greenberg so they know "you cannot manipulate the books of a public company to give a false impression of your company."
Greenberg is accused of manipulating AIG's accounting records in 2000 and 2001 to hide hundreds of millions of dollars in losses from investors.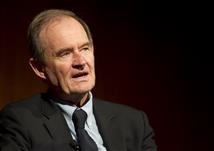 Ellenhorn called Greenberg, who sat with defense attorney David Boies, "spry, active, vigorous" and noted he'd traveled recently to China and was running his own investment advisory firm.
"He's all over the place," Ellenhorn said.
Boies told state Supreme Court Justice Charles E. Ramos, who will decide the case without a jury, that Ellenhorn had not identified any witnesses or evidence to support his claims.
"He relied exclusively on hearsay and speculation," Boies said. "This case is devoid of any admissible evidence that ties Mr. Greenberg to anything."
Former Attorney General Eliot Spitzer made Greenberg one of his targets in his 2005 crackdown on Wall Street executives he believed cheated investors. Spitzer, a Democrat, later was elected as governor and resigned in 2008 amid a prostitution scandal.
When Boies cited the "political nature of this case" and referenced "Mr. Spitzer's outbursts" of publicity about the case when he was attorney general, Ellenhorn objected. The judge let Boies proceed as Greenberg watched from the defense table.
"The evidence we have is directly contrary to what they must prove," Boies said.
The state is seeking an order banning Greenberg from working in the securities industry or as an executive for any public company. It also is seeking $53 million, including bonuses Greenberg received during the period he is alleged to have manipulated the company's finances to hide losses.
Boies, who represented Democrat Al Gore after the 2000 U.S. presidential election against Republican George W. Bush, noted that Greenberg was praised by New York-based AIG when he left the company.
AIG, one of the world's largest insurance companies, nearly collapsed in the fall of 2008 at the height of the financial crisis and received about $180 billion in bailout aid from the government.
The company paid a record $1.64 billion in February 2006 in a settlement of civil fraud charges with federal and New York state authorities, and it apologized for having deceived investors and regulators with misleading accounting practices stretching back two decades.
Copyright 2021 Associated Press. All rights reserved. This material may not be published, broadcast, rewritten or redistributed.
Topics Abuse Molestation Reinsurance AIG
Was this article valuable?
Here are more articles you may enjoy.