There was a great turnout for the future of the insurance industry this week in Las Vegas. The occasion was the first InsureTech Connect Conference, which brought together an estimated 1,500 tech entrepreneurs, investors and insurance executives from around the world.
Technology entrepreneurs shared their ideas for transforming the industry. They were expressing respect for the importance of insurance even while pointing out where they think the industry is doing a poor job. The young upstarts shook hands and sipped cocktails with check-writing executives of major insurance carriers and venture capital firms.
Meanwhile, the investors tried to figure out which technologies might be good bets and which might be crap shoots.
The overflow attendance reflected the fact that insurance is the darling of the tech investment crowd right now. The insurance tech space has seen 75 deals thus far this year, 50 percent more than in all of 2015, according to Matthew Wong, senior analyst CBInsights and author of the Insurance Tech Insights blog.
According to the "Pulse of Fintech" report, a quarterly global update on fintech venture capital trends published jointly by KPMG International and CB Insights, venture capital-backed insurtech investments hit the $1 billion mark across 47 deals in the first half of 2016. That compared to $2.5 billion of investments in 74 deals for all of 2015, the report says.
Highlighting 2015 as the year that "insurtech came into its own," and characterizing the jump to $2.5 billion as a "massive leap" compared to the previous four years, the KPMG/CB Insights report notes that insurtech investment in 2016 include "tremendous activity by many traditional insurers that are increasingly creating their own venture capital funds."
The Las Vegas conference upset the widely-held notions that insurance is not sexy and the industry can't attract young people. While still heavily white and male, the crowd was more diverse racially and by gender than the audience at a typical insurance conference. It appears that young people are indeed entering the industry; they are entering it via technology and at least the ones speaking at this conference think what they are doing is cool.
Youth and diversity were not the only contrasts with a typical insurance meeting. At InsureTech Connect, there wasn't a necktie in sight and at least one male panelist wore no socks.
Silicon Valley
The conference was the brainchild of Caribou Honig, founder and partner with the Virginia-based venture capital firm QED Investors, who began focusing on insurance the past few years after years investing in banking and lending.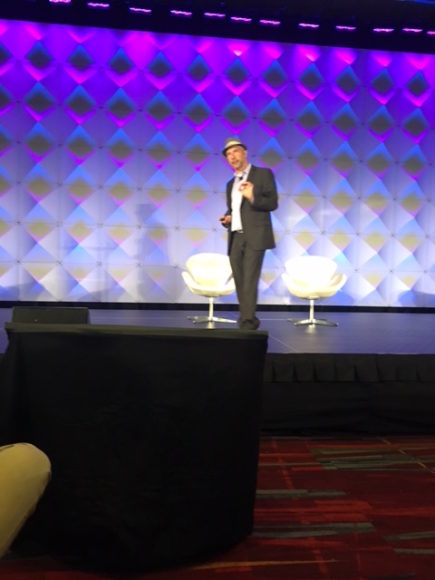 "Silicon Valley is coming," Honig declared to the insurance traditionalists in the crowd, letting them know that entrepreneurs are attacking every link in the insurance value chain from products and sales to underwriting and claims.
However, before identifying where he thinks change is coming, Honig undermined another somewhat widely-held assumption, the one that holds that insuretech entrepreneurs do not understand or appreciate insurance.
Insurance, Honig said, is "a pure good thing" and is "something that affects real people." Everyone seeking to change the industry should be reminded of how important insurance is to people and the economy, he said.
The venture capitalist told the story of his own recent experience after a fire at a condo he owns in Virginia Beach. The fire damaged both his and his neighbor's beach condos. Because he had adequate insurance, Honig was able to repair his place without a lot of hassle. But his neighbor did not have adequate insurance. Now his neighbor's place is a concrete slab and Honig has an ocean view he did not have before the fire.
Honig said the hallmarks of tech-driven change include increased transparency and reduced friction, which can mean lessening human involvement in some aspects. He said insuretech will lead to disintermediation, but that there will also be change that will strengthen agents and brokers.
He cast doubt on the idea of insuretechs becoming carriers, suggesting they are better off starting out as managing general agencies (MGAs) than as risk-bearing entities. On the other hand, he is impressed with the insurance carriers that have become tech investors.
Judging by those speaking at the conference, insuretech entrepreneurs are more excited about transforming the customer experience by making buying insurance and settling claims easier, faster and more transparent than they are excited about transforming insurance products (although a few including TROV and Slice have engineered new coverages).
For the coming year, Honig predicts that capital will continue to flow to insurance startups and that some of the insuretech winners will begin to expand across country borders. He also thinks risk bearing ventures will go beyond peer-to-peer arrangements and parametrics, where third party data is used to trigger claims, removing the costs and delays of adjusting, will catch on.
He said "entrepreneurs overestimate the amount of change coming while insurance executives underestimate the amount of change coming." But, he stressed, change is coming.
Interest Cycle
Wong of CB Insights agreed that the investor interest in insurance is likely to continue at least for awhile. Funding did slow a bit in the second quarter from the record set in the first but that was true in other sectors as well.
Wong is impressed that the number of investors is going up along with the dollars. In 2012, there were 55 insuretech investors; thus far in 2016 there have been more than 140.
"Interest in capital in the insurance space is abundant," Wong said.
Small commercial lines, as well as homeowners and renters insurance lines, are attracting the most interest.
Half of the insuretech startups are just getting started, with insurance carriers more willing than other investors to take a chance on those in seed stage.
Wong suggested a trend to watch is the sideways movement of fintech firms like SoFI, Nerdwallet and CreditKarma into the insurance space.
He said some wonder if the slowdown in the second quarter signals an end to the tech cycle and means investors are looking for the next wave.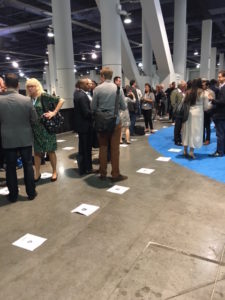 But insuretch is young. None have yet succeeded to the point of an initial public offering (IPO) or being acquired. "This is the early innings of insuretech," Wong said.
Even if none make it big, they will still bring change to the industry, he added.
Attendees
Some of the startups in attendance at the conference were CoverHound, Lemonade, Embroker, Friendsurance, TROV, Insurify, The Zebra, Driveway, WeGoLook, CNinsure, ClaimBot, Insureon, Bunker and PolicyGenius. The conference included opportunities for startups to meet with investors.
A few entrepreneurial ventures including CoverHound, Slice, Bunker and Denim used the occasion to announce beta launches of new products.
Investors in attendance included venture capitalists, insurers and accelerators. QED Investors, F-Prime Capital, Anthemis Group, Index Ventures, IA Capital, Oak HC/FT, Lightbank, Thayer Street Partners, Balderton Capital, and Canaan and Partners were among the VCs.
Insurer-affiliated strategic funds attending included Allianz Group, AXA Strategic Ventures, Liberty Mutual Strategic Ventures, American Family Ventures, State Auto Labs, and the Global Insurance Accelerator out of Iowa.
Insurers with a presence as panelists or exhibitors included Axa, Allianz, Chubb, Munich Re, Hiscox, Markel, MetLife, Hamilton, Zhing An, Aviva, AmTrust, Erie, CRC Insurance, QBE, Mass Mutual, Mutual of Omaha, XL, Generali and Farmers.
There were more than 80 technology-oriented exhibitors.
Brian Duperreault, chairman and CEO of Hamilton Insurance, is scheduled to speak on Thursday.
Topics Carriers InsurTech Tech Training Development Market Chubb
Was this article valuable?
Here are more articles you may enjoy.