On a first quarter results call W.R. Berkley Corp. President and CEO Robert Berkley cited a growing and alarming level of tension between carriers and distributors, driven by what he called a fight to grow margins in the face of declining rates. Berkley concluded that he fears this struggle will get in the way of carriers and agents working together to "bring more value to the customer."
A recent Channel Harvest Research survey addressed this dynamic by asking independent agents what they desire the most from their carriers and what they feel are the keys to a profitable relationship.
It's no surprise compensation is a key factor, with nearly 90 percent of respondents saying it is either "very important" or "somewhat important" when they think about carriers. Yet, many agents are less than satisfied with their compensation agreement with their lead companies. Nearly 40 percent say their top carrier is average or below average when it comes to compensation.
This is among the findings of the national survey of agents conducted by Channel Harvest and sponsored by Insurance Journal. The study, "Key Success Factors in Agent/Carrier Relationships 2016 Survey," is the ninth in an annual series examining agents' views on property/casualty insurers and various marketplace issues.
"Market forces can squeeze everyone along the value chain and this survey indicates agents want to have a constructive dialogue with carriers about how to overcome margin issues," says Peter van Aartrijk, principal of Channel Harvest. "Compensation is a hot button that carriers should not leave to chance or a business-as-usual attitude — if they truly seek to attract or retain valuable agencies."
Commercial Business
Other than compensation, where there appears to be a disconnect between agents' expectations and their assessment of their lead carrier's performance, the survey reveals general alignment between commercial carrier performance and agency expectations. While agents are less than enthusiastic about their lead carrier's tech support, training, marketing support and digital/social media support, those attributes also fall to the bottom of the list of agent expectations.
Agents who place commercial lines business gave their top carriers high marks for financial strength, underwriting responsiveness and expertise, customer service and brand reputation. When asked why they placed so much business with that carrier, agents mentioned things such as:
"Underwriter seems to be committed to helping us write business. Willing to look at each account and analyze it on its own merit."
"Fully automated. Competitively priced."
"Ease of quoting and writing business."
"High level loss control and claim talent."
About 1,900 agency personnel responded to this year's survey, conducted in February and March. Respondents ranging from principals to producers to CSRs answered 100 questions about personal lines and commercial lines carriers.
The full Channel Harvest report explores how carriers can capitalize on agents' interest in adding new companies. It also outlines agents' ratings and rankings of the carriers with which they presently do business and examines agents' views on a variety of insurance marketplace issues.
Fundamentals of Relationships
The survey's authors created a comparison of independent agent opinions five years ago to today, an exercise that revealed how far the agency channel has come while also illustrating that certain fundamentals remain important throughout cycles and market disruption.
"Ask agents what's important to them and they usually put underwriting and claims at the top of the list," said van Aartrijk. "But we were intrigued to find that some of those attributes are more prominent in our current survey than back in 2011."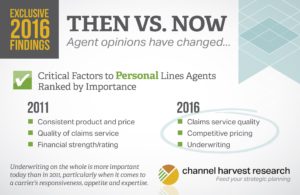 Comparing responses of agents writing personal lines five years ago versus the current survey, underwriting on the whole is more important today than in 2011, particularly when it comes to a carrier's responsiveness, appetite and expertise. Agency compensation remains important today, as do claims service and competitive pricing.
Commercial Lines Trend
The trend in commercial lines is somewhat different, as agents value claims service, competitive pricing and customer service more than they did five years ago, the Channel Harvest comparison found.
When asked what their lead carrier does best, the greatest number of personal lines agents pointed to claims service, financial strength and underwriting expertise in 2011.
Today, agents continue to give their lead carrier high marks for financial strength and claims service. Underwriting, however, takes on a different complexion, as agents today applaud their lead carrier for underwriting responsiveness, where five years ago they gave highest marks for underwriting expertise. Channel Harvest interprets this as a sign of the urgency and speed at which business moves today.
"It's also no surprise carriers score a bit higher today for their technology," said van Aartrijk. "But another constant then and now is agency compensation, where agents tend to have a mixed-to-negative opinion of their lead carrier."
Financial Strength
Back in 2011, and now, agents like the financial strength of their lead carrier. As with personal lines agents, responsiveness in underwriting earns recognition today along with expertise where it was only expertise in 2011. Technology didn't score high five years ago or today, with only 55 percent of agents citing their lead carrier for above average performance. Similarly, scores for compensation were virtually unchanged over five years. It's also worth noting that agents see room for improvement in training and education both then and now.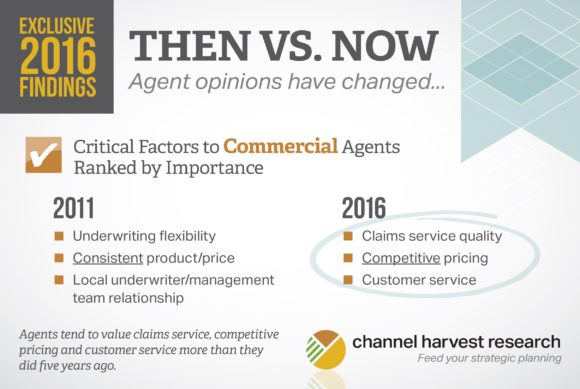 "In today's environment things quickly can change. Carriers enter and exit lines, there are mergers and acquisitions and some companies are no longer in business," said van Aartrijk. "All of this movement and disruption can have a profound effect on an agency's book of business, and the Channel Harvest survey bears that out while also reinforcing the universal conviction that underwriting, claims and service are still the glue that holds the value chain together."
For more information on the report as well as accompanying raw data and other ancillary research products, visit www.channelharvest.com or contact John Campbell, managing principal of Channel Harvest, at john@channelharvest.com.
Topics Carriers Agencies Claims Underwriting Tech Talent Training Development
Was this article valuable?
Here are more articles you may enjoy.