Online small business insurance agency Next Insurance has partnered with specialty insurer Markel Corp. to offer tailored coverage for personal trainers.
Next Insurance allows personal trainers to buy a professional and general liability coverage plan online in minutes and pay in monthly installments. They have three plans to choose from: $11 per month for $500,000 of coverage, $14 per month for $1 million, and $16 per month for $2 million. All have $0 deductibles.
The personal trainer insurance is offered anywhere in the continental U.S. plus Alaska
"We believe providing more specific and focused insurance offerings to small business owners – like personal trainers – through Next Insurance will advance our overall industry," said Trent M. Cooksley, head of Open Innovation at Markel Corp. "This is our first partnership product with Next and we are excited about Next's expertise and encouraged by the significant growth we've seen since our launch together."
Next Insurance said it is working with the National Exercise and Sports Trainers Association (NESTA) to encourage trainers, sports coaches, lifestyle consultants and wellness professionals to buy insurance as soon as they complete certification courses and start offering their services.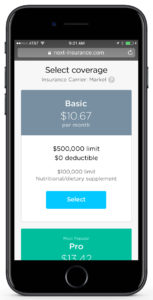 "We have seen our personal trainer insurance sales grow by double-digits every month and expect to see this growth expand with the support of Markel and our collaborations with associations like NESTA," said Guy Goldstein, CEO and co-founder of Next Insurance.
Next also sells insurance packages with equipment and liability coverage for commercial photographers on monthly payment plans. Munich Re is the underwriter.
It also sells general liability tailored for construction workers including electricians, plumbers and others, working with Builders & Tradesmen's Insurance Services Inc (BTIS).
Next Insurance says each of its insurance offerings is tailored to the specific industry so that usual exceptions or limitations are covered.
Next Insurance was founded by tech entrepreneurs Guy Goldstein, Nissim Tapiro and Alon Huri, who were on the executive team at mobile payments company Check, which was acquired by Intuit in 2014 for nearly $400 million. Last March, the startup announced a $13 million seed investment led by investors Zeev Ventures, TLV Partners and Ribbit Capital.
Source: Next Insurance
Related:
Topics Insurtech
Was this article valuable?
Here are more articles you may enjoy.