More extreme weather has led to more extreme insurance claims in the U.S. over the past few years.
In a review of more than 100,000 commercial catastrophe claims during a 10-year period, Mark A. Anderson, a claims executive at Nationwide Insurance, noticed a steady climb in claims severity.
Nationwide saw a 26-percent increase in average severity over the three-year period of 2014 to 2016 compared with the seven-year period between 2007 and 2013.
The total number of claims is also on the rise.
"The number of claims that we have seen the last three years is up about 14 percent compared to seven years prior," said Anderson, who works out of Nationwide's headquarters with an official title of associate vice president of commercial lines property technical claims.
The Columbus, Ohio-based carrier has also seen a 14-percent increase in unique commercial catastrophe events when comparing those same time periods.
Anderson has been looking at claims figures a long time. He's been with Nationwide since 2014. Prior to that, he was at Liberty Mutual Insurance for 36 years.
"The last three years obviously we have had much warmer than normal winters," Anderson said. "In 2016 and 2017 here in the Midwest, we had the warmest February in history. I think any time that you have that warm of weather in the winter and you see the major swing in the weather patterns, the cold fronts, it has a tendency to increase the frequency and the severity of the storms."
Is this climate change at work?
Anderson is a good company man and when asked that, it was clear he didn't wish to hop into a political grinder by offending those who don't believe in climate change, so he steered away from attributing the more frequent extreme weather events to global warming.
"I don't know that I'm in a position to comment on that, but certainly there's no question that the winters that we've seen in the Midwest and east of the Mississippi are much warmer than we have seen in many years," Anderson said. "And I think anytime we see that type of warm weather, especially the Midwest and East, it's going to make for some very disruptive weather patterns, which are very difficult to forecast."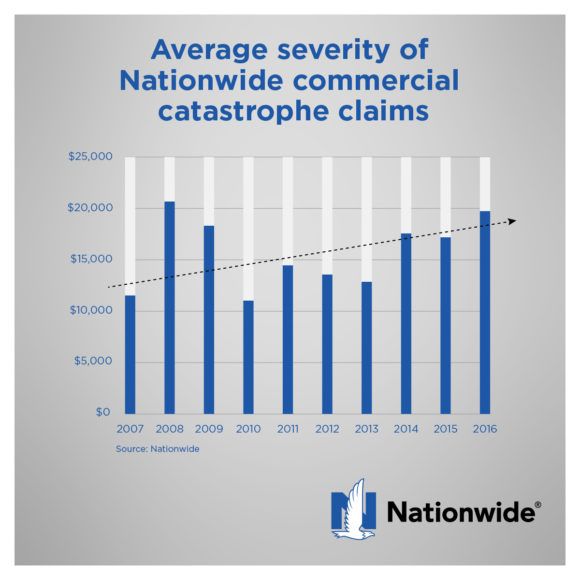 He added with a hint of amazement in his tone: "There's tornadoes forecast for the Chicago area this evening."
He spoke about this with Insurance Journal on Tuesday. The following day a storm system killed at least three people as it spawned tornadoes and damaged dozens of homes in the central U.S. One person was killed when a tree was uprooted by a tornado in Ottawa, which is roughly 70 miles southwest of Chicago, the Chicago Tribune reported.
Nationwide has so far seen roughly 260 commercial catastrophe claims related to the recent severe weather in the Midwest.
There's no denying there has been some perplexing weather recently, which Anderson had no issue pointing out.
"This past 12 to 18 months we've seen storms that we have not seen in the past or would expect to normally see," he said.
One example he offered was the recent flooding in California that follows a prolonged drought.
Heavy rains last month prompted fears of flooding from the Oroville Dam east of the Sacramento Valley. Water from the storm-swollen lake behind the dam spilled down the unpaved slope, eroding the slope to the point that authorities ordered evacuations for nearly 200,000 people.
Data provider CoreLogic estimated at the time that roughly 50,047 single- and multi-family residential homes could be damaged with an estimated reconstruction cost value of $13.3 billion if the 770-foot dam – the nation's tallest – were to fail completely.
On Tuesday the San Jose City Council ratified an emergency declaration in response to historic flooding last week in that area. The declaration followed estimates from city officials that flooding caused $50 million in private property damage and $23 million in public property damage.
Some experts think such events could become more frequent.
NPR in a report on Monday interviewed a Stanford University professor who said California is likely to see more extreme flooding with climate change because warmer storms produce more rain instead of snow.
Noah Diffenbaugh, a climate scientist at Stanford University, said California's water system wasn't built for the current climate the state is experiencing when it was designed a century ago.
The state's flood system can handle a slow melt from the Sierra Mountains, but not a huge amount of rain all at once, he said.
"Our water system was really built in an old climate," Diffenbaugh told NPR. "It's a climate that is no longer the climate of California."
With extreme weather and claims severity on the rise, Anderson was most interested in speaking about Nationwide's second annual Small Business Indicator.
The survey, which also highlights the increased claims severity figures, was conducted online with 502 U.S. small-business owners with fewer than 300 employees by Harris Poll on behalf of Nationwide from June 10 through 23.
It showed a lot of small business owners aren't well prepared for natural catastrophes.
A majority (68 percent) of small-business owners don't have a written disaster recovery plan — even though nearly half those surveyed said it would take their business at least three months to recover from a natural disaster.
The survey also showed that many small business owners don't take disaster preparedness as seriously as they should.
"Of the small business owners that indicated they did not have a disaster recovery plan for their business, there was also 68 percent that indicated they do have a family evacuation plan at home," Anderson said. "I think that what we're trying to get across is that when a business owner feels that a disaster plan is important enough for their family and the protection of their family, they should have that same concern for the safety and health and well-being of their employees."
Herein lies an opportunity, in Anderson's view.
He thinks these Nationwide figures, and the recent wacky weather, are good tools for insurance agents to use to talk to customers about business interruption and other forms of insurance that go above and beyond basic property insurance.
Here's a good place to note that the Nationwide survey shows 71 percent of small businesses don't have business interruption insurance.
Imagine an extreme weather event plows through a small town yet misses a small business. The storm, however, knocked out the area's electrical grid for two or three weeks. Insurance policies only cover direct physical loss, so a policy or endorsement that provides coverage for a power outage away from the premises would have been a wise choice for that now powerless company.
Anderson, in offering his hypothetical scenario, took the opportunity to pitch Nationwide's Utility Interruption Insurance, an additional coverage under a standard BOP or commercial property policy.
Basic business interruption insurance and property insurance can be expanded to include this coverage with two specific endorsements:
Utility services – time element, which is an endorsement that covers losses for an event in which winds break down a power line or a water main is broken, including loss of income and expenses, up to a predetermined time limit or until the power or water service is restored.
Utility services – direct damage is an endorsement that's an extension of property insurance, providing protection against damage to property resulting from an interruption of any of the utility services named in the policy as a result of a covered cause, such as a windstorm.
To end on a high note, Anderson did point out that disaster planning awareness appears to be on the rise.
In the previous survey, 34 percent of small businesses polled did not feel that a disaster preparedness plan was high priority. Only 21 percent said such a plan was not a high priority in the latest survey.
"I think that there's a greater recognition that there is a need to be prepared," Anderson said.
Past columns:
Was this article valuable?
Here are more articles you may enjoy.