You can blame it on the weather, or you can blame it on Trump.
A record number of Americans are concerned about global warming, believe it is occurring and consider it a serious threat that is caused by human activity.
A new Gallup Poll shows all the above perceptions are up significantly from 2015.
Sixty-two percent of those polled believe we are already feeling the effects of global warming, and 45 percent say they worry "a great deal" about it. That's up from 37 percent a year ago, and well above the recent low point of 25 percent in 2011. Roughly one-in-five worry "a fair amount" about global warming, while 18 percent worry "only a little," and 16 percent worry "not at all."
According to Gallup, the reasons may be attributable to unusual weather, including record-breaking warm temperatures in the U.S. in over the past few years.
Gallup noted that its 2017 Environment survey was conducted March 1-5, following the nation's second-warmest February on record. The same thing happened in March 2016, when Gallup reported a 5-percentage-point rise following a hot February.
Maybe we can throw a bit of blame on Trump.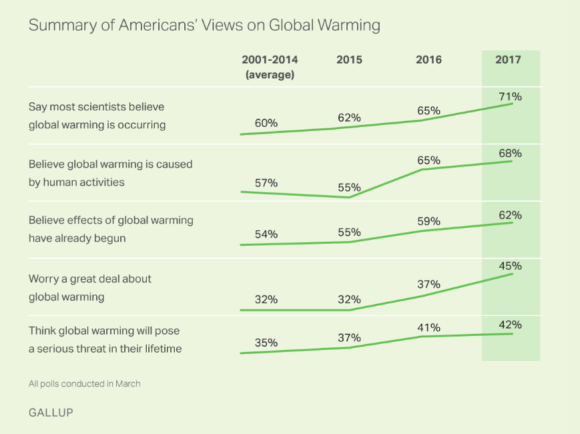 "In addition to warmer weather, anxiety about President Donald Trump's environmental stance could be a factor in Americans' heightened concern about global warming this year," Gallup states on its website where the poll can be found.
According to the poll, 57 percent said Trump will do a poor job of protecting the environment. That far exceeds the percentages of Americans predicting the same for Barack Obama or George W. Bush at the start of each one's first term.
Trump hasn't helped his own cause in this regard. He's called global warming a "hoax" on a number of occasions, and he made it one of his campaign promises to pull the U.S. out of the climate change agreement hammered out by world leaders over a year ago in Paris. By the way, nearly half of those who took an Insurance Journal poll believe it would be disastrous if the U.S. pulls out, while nearly a quarter said they believe climate change is a hoax.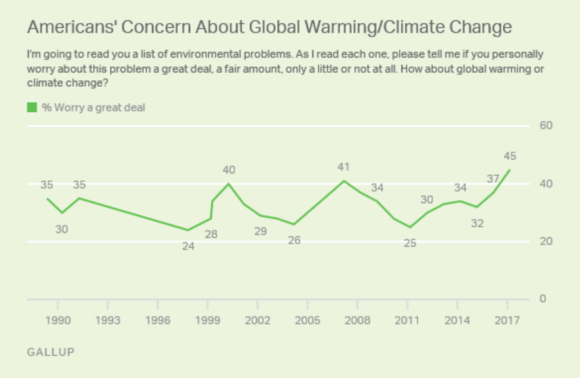 The majority of those who took the Gallup poll not only believe the climate is changing, but that it's Man's fault.
Sixty-eight percent of those polled believe that increases in the planet's temperatures over the last century are mainly due to human activities. Less than one third attribute global warming to natural changes in the environment.
Republicans and Climate Change
Here's another thing the president may not be too happy about.
A group of 17 House Republicans have come out in support of a resolution introduced this week that supports economically viable action to combat global warming.
The legislation introduced in the U.S. House of Representatives by Republicans Elise Stefanik of New York, Carlos Curbelo of Florida and Ryan Costello of Pennsylvania, pledges to study and address the causes and effects of changes to the climate and find ways to balance the human activities that contribute.
"This issue was regrettably politicized some 20 or so years ago and we are in the process of taking some of the politics out, reducing the noise and focusing on the challenge and on the potential solutions," Curbelo said in a call with journalists that was detailed in a Reuters article.
This is at odds with the Trump administration's stance on climate change.
Scott Pruitt, the new administrator of the Environmental Protection Agency, has repeatedly stated his belief that climate change is not primarily driven by humans.
Then there was the time early this year that the Trump administration reportedly instructed the EPA to remove the climate change page from its website.
Trump this week called for a review fuel-efficiency standards for vehicles put in place under former President Barack Obama. The president said on Wednesday during a visit to Detroit, Mich., that his goal is the make the city "the car capital of the world again."
The Hartford
The Hartford might just be one of the most ethical companies there is.
The Connecticut-based carrier for the ninth time was named one of the "World's Most Ethical Companies" by the Ethisphere Institute, a Scottsdale, Ariz.-based group that supports the cause of business ethics.
Making the list nine times is even more impressive considering it's just the 11th year that Ethisphere has produced a list to recognize ethical companies.
The assessment for being an ethical company is based on scores in five weighted categories: ethics and compliance program (35 percent); corporate citizenship and responsibility (20 percent); culture of ethics (20 percent); governance (15 percent); and leadership, innovation and reputation (10 percent).
The corporate citizenship and responsibility category reviews a range of a company's performance indicators associated with sustainability, citizenship and social responsibility, which specifically include environmental stewardship, community involvement, corporate philanthropy, workplace impact and well-being and supply chain engagement and oversight.
Other big property/casualty insurance industry players that made the 124-company long list include Allstate, Arthur J. Gallagher & Co. and USAA. Other big companies on the list include Ford Motor Co., Intel Corp., Microsoft Corp., PepsiCo and Starbucks.
Following the recognition, The Hartford Chairman and CEO Christopher Swift said in a statement: "At The Hartford, we recognize that a company's reputation for doing business the right way is essential to its sustained success."
The Hartford, which in 2015 issued its own sustainability report, has been given props for its corporate citizenship before.
Sustainability advocate Ceres gave the carrier high marks in a recent annual report that assessed insurer disclosures on climate change risks. The carrier has marketed itself as green to potential employees for some time, and it has been actively working on improving its sustainability record for at least 10 years.
Mammal Dwarfing
Global warming can have the effect of a really cold pool.
Evidently, it gave a bunch of animals shrinkage a long time ago. And a few scientists believe climate change could make it could happen again.
Some 50 million years ago, as Earth experienced a series of extreme global warming events, mammals of the day shrank. It's called "mammalian dwarfism," and has been linked before to the largest of these events, according to research led by the University of New Hampshire.
The research showed this evolutionary process can also occur in smaller events known as hyperthermals, which researchers believe could help them understand some of the effects of current human-caused climate change.
"Understanding the similarities and differences between biotic (pertaining to life) responses to the PETM and these other smaller hyperthermals is important for determining what kinds of biological responses might be typical for rapid global warming events like what we are experiencing today," the study published in Science Advances states.
The PETM, or Paleocene-Eocene Thermal Maximum, is considered the largest of all ancient global warming events, occurring roughly 56 million years ago.
The researchers used mammalian fossils collected from within the northern Bighorn Basin of Wyoming that stratigraphically span known locations of periods of lesser warming than the PETM.
They found a significant decrease in the body size during a smaller hyperthermal called the ETM2 (Eocene Thermal Maximum 2), observing dwarfing in two of four taxonomic groups analyzed in the study. For example, the lineage of equids (horses) decreased in size by roughly 14 percent compared with 30 percent during the PETM.
This tells the researchers that dwarfing appears to be a common evolutionary response of some mammals during past global warming events, and that extent of dwarfing appears to be related to the magnitude of the event.
"We found evidence of mammalian dwarfism during this second hyperthermal, however it was less extreme than during the PETM," Abigail D'Ambrosia, a doctoral student and lead author of the study, told UNH Today in a piece published on Wednesday. "During ETM2 temperatures only rose an estimated five degrees Fahrenheit and it was shorter only lasting 80,000 to 100,000 years, about half as long as the larger PETM. Since the temperature change was smaller, this suggests there may be a relationship between the magnitude of a global warming event and the degree of associated mammal dwarfism."
Past columns:
Was this article valuable?
Here are more articles you may enjoy.